Three Initiatives North Bergen Can Support to Fight Racial Injustice 
The global Black Lives Matter movement is the largest civil rights movement the world has ever seen. The North Bergen BLM rally on June…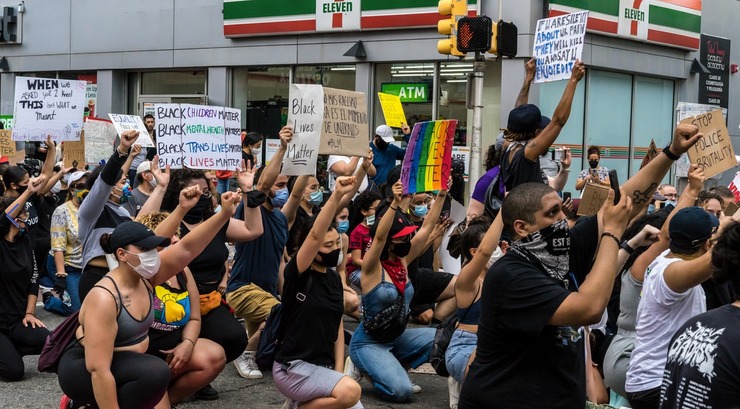 The global Black Lives Matter movement is the largest civil rights movement the world has ever seen. The North Bergen BLM rally on June 6th, 2020 was likely the largest grassroots demonstration this township has ever witnessed. While many cities and police departments have responded in ways to answer the demands of their people, it is time for our officials to do the same. 
Today, our leaders must take action to pass meaningful legislation and resolutions to build towards a more just society. 
1. Abolish Slavery – Amend the 13th
Recently, Hoboken and Jersey City passed a resolution backing ACR 145. We must hold our Board of Commissioners to the same standard and call for them to make amending the 13th a concerted county-wide effort. Our state Senator and assemblypersons need to support the state legislation to Abolish Slavery in New Jersey by endorsing a bill being proposed by the Legislative Black Caucus of New Jersey, and sponsored by Senator Ron Rice and Assemblywoman Angela McKnight. 
ACR 145 proposes to add language to our state constitution, permanently abolishing slavery and involuntary servitude, including as punishment for a crime. As a state amendment, this measure would go to the ballot in November of this year. This means the people will be allowed to take action at the ballot box and carry this over the finish line. 
Currently, the United States has 5% of the world's population, but 25% of the world's prisoners. In Hudson County, Blacks and Latinos makeup 40% of the population but are at the 80th percentile inside of our county prison facilities. 
When the 13th Amendment was passed ending slavery in the country, the clause "except as a punishment for crime" was included allowing our judicial court to systematically oppress people of color. This clause led to the Jim-Crow era where our criminal justice system and corporate retailers have exploited the 13th amendment clause by way of slave wage prison labor and for-profit prisons.  
2. 8 Can't Wait
Our police department should immediately adopt the policies of "8 Can't Wait."
8 Can't Wait is a set of policies introduced by Campaign Zero. The policies call for: ban on chokeholds and strangleholds, require active de-escalation tactics during all interactions, require warning before shooting, exhaust all alternatives before discharging a weapon, duty to intervene, ban on shooting at moving vehicles, require the usea of force continuum, as well as require comprehensive reporting. 
Most of these policies have been implemented by the New Jersey Attorney General which prohibits the North Bergen Police Department from failing to enact these changes. With the help of our department, we can drive this initiative forward in its entirety. 
3. Mandate the Inclusion of Black History in High School Curricula 
Our Board of Education must immediately implement a mandated Black History course in North Bergen High School curricula beginning no later than the 2022 academic year. A petition started by recent North Bergen High School graduate, Izabella Lima, received over 600 signatures from classmates, teachers, and alumni demanding North Bergen High School require a meaningful and thoughtfully curated African-American history course for all students
History will ask what we did during these unprecedented times and we must rise to the call for justice for all. 
Take Action Today
Contact your local officials and urge them to support these policies
State Representatives
State Senator, Nicholas Sacco (201) 295-0200
State Assemblyman, Pedro Mejia (201) 770-1303
State Assemblywoman, Angelica Jiminez (201) 223-4247
North Bergen Board of Commissioners 
Nicholas Sacco (201) 392-2005
Hugo Cabrera  (201) 392-2062
Allen Pascual (201) 392-2031
Frank Garguilo (201) 392-2161
Julio Marenco (201) 392-2012
2. Implement Black History Course 
George J. Solter, Superintendent of Schools (201) 295-2706
North Bergen Board of Education (201) 868-1000
Patricia Bartoli, Board President
Claudia Rodriguez, Vice President 
Claudia Baselice
Luis Diaz
Haissam Jaafar
Kanaiyalal Patel
Luis Rabelo
Sai Rao
Ruth Shaw 
3. 8 Can't Wait
Chief of Police 
Peter Faslis (201) 392-2100 
For more information and other ways to take action, sign up for the official HudPost newsletter.