The High Tech $115K settlement that went unreported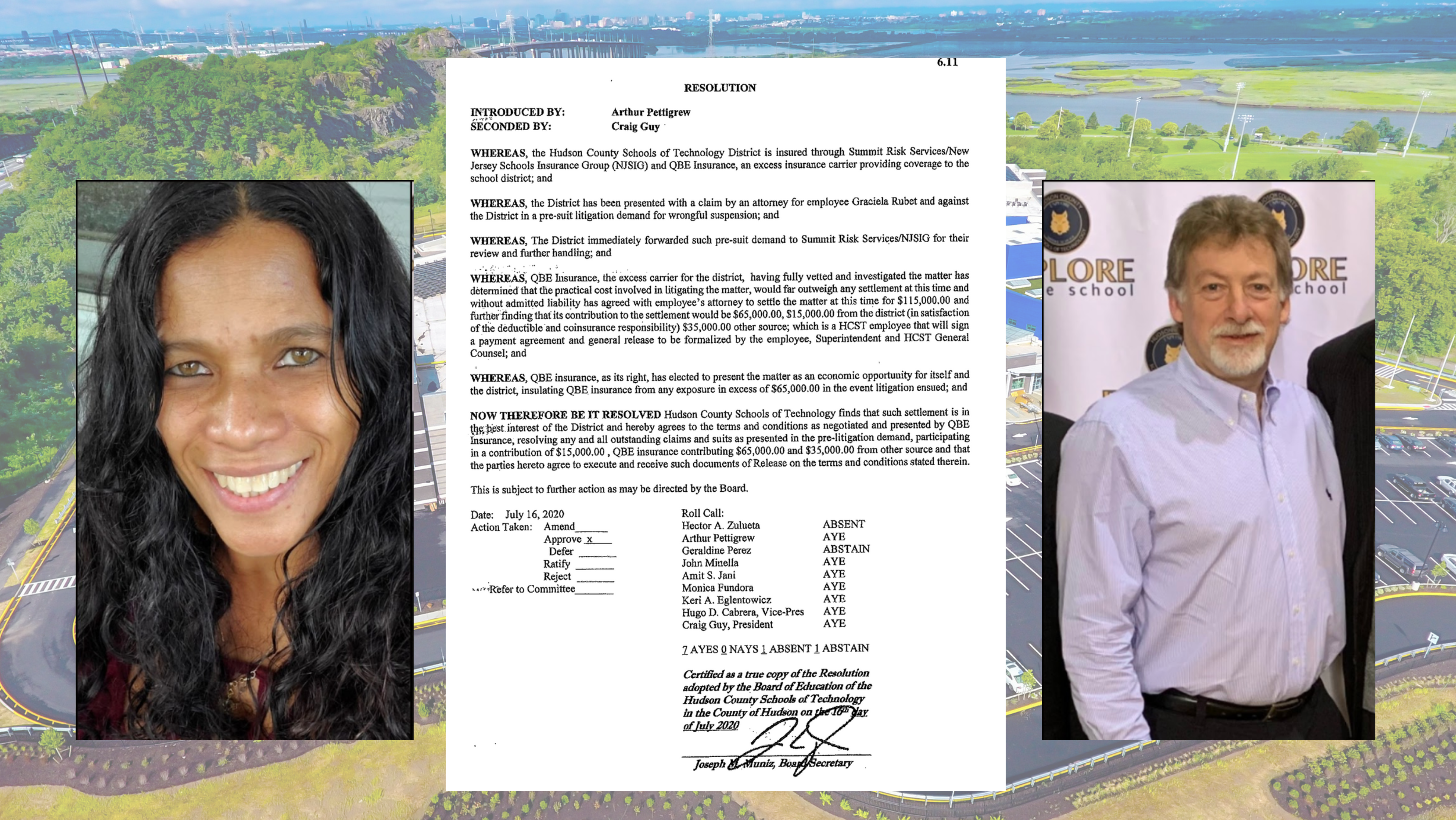 Graciela Rubet, a secretary working at the Hudson County Schools of Technology (HCST) since April 2000, was criminally charged and suspended with pay in August 2018 after being accused of burglarizing a student locker at High Tech High School's prior location in North Bergen.
The arrest initially went unreported, but eventually a story was published by Hudson County View in May 2019 and the article's caption on Facebook stated "Rubet was accused of stealing merchandise for a charity golf event last June and remains on suspension with no court date in sight."
Despite the bad press, there would be no conviction. In fact, documents obtained by HudPost reveal that the criminal case against Rubet was dismissed in February 2020, she was reinstated to her job on March 1, 2020, and the secretary eventually received a $115,000 pre-notice settlement for "wrongful suspension."
What's notable about Rubet's settlement was the lack of monetary damages (she was suspended with pay and provided a criminal defense attorney by her union). Instead, the $115,000 payment was for "alleged pain and suffering."
So why were Rubet's criminal charges dismissed and why did she receive a $115,000 settlement? Public details are scarce because 1) there was never a formal claim submitted with the district and 2) a Hudson County judge kept a separate settlement agreement related to Rubet's case hidden from the public.
Be that as it may, according to sources with knowledge of the situation, Rubet supposedly objected to alleged sexual harassment by HCST Business Administrator Nicholas Fargo before he played a key role in the school's investigation of her. That investigation resulted in criminal charges, but the case was purportedly dismissed after text messages of the alleged harassment were presented to the municipal prosecutor.
A spokesperson for HCST declined to comment on those allegations. Continue reading for an in-depth breakdown of Rubet's case and all available information.
The Hudson County View Report
On May 7, 2019, Hudson County View published an article titled "Almost a year later, Hudson County school clerk still on suspension for alleged theft incident."