2nd Annual 'Cops & Bobbers' Fishing Event
The North Bergen Police Department collaborated once again with the North Bergen Recreation Department for the 2nd annual "Cops and…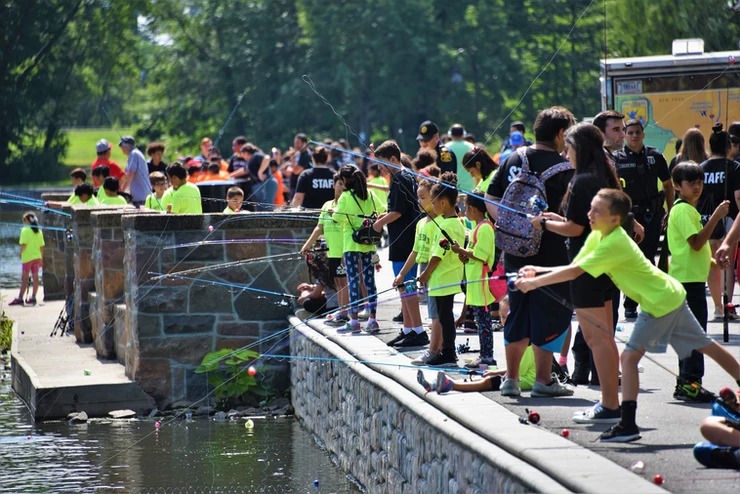 The North Bergen Police Department collaborated once again with the North Bergen Recreation Department for the 2nd annual "Cops and Bobbers" event, bringing more than 700 kids between the ages 6 and 12 to Braddock Park for a day of fishing in the lake.
The kids, all participants in the North Bergen Summer Fun program, came to the lake in shifts between 9am and mid-afternoon. The NBPD and Rec purchased about 140 rods between them for the kids to use, with U.S. Fish and Wildlife Service bringing their "Reels on Wheels" trailer and loaning an additional 80 rods. The agency, operating out of the Great Swamp National Wildlife Refuge, covers New Jersey, New York, and Pennsylvania, helping mainly urban kids to interact with wildlife.
Representatives from U.S. Fish and Wildlife also brought along an archery hoverball booth, and helped teach the kids how to bait, cast, and catch fish, with the help of an even dozen police officers. For many of the kids it was their first exposure to the sport.
The event was one of an ongoing series of free initiatives from the NBPD's Community Policing Division, created by Chief Robert Dowd to engage residents, build positive relationships between local kids and police officers, and keep kids off the streets with enjoyable, healthy activities.
Officers participating this year were Deputy Chief Peter Fasilis, Deputy Chief William Lyons, Captain James Gaughran, Sgt. Yfantis, Det. Fleischhauer, Police Officer Awadallah, Police Officer William Brown, Police Officer Mejia, SLEO II Antelo, SLEO II Bonilla, SLEO II Malave, and SLEO II Montemurro.
Parks and Recreation Commissioner Hugo Cabrera stopped by early in the day to greet the kids, the cops, and the camp counselors from the Summer Fun program.