Town Honors Doctor Who Saved Resident's Life
Mayor Nicholas Sacco presented a plaque to local chiropractor Dr. Gerard Busacco on Wednesday, Feb. 20, 2019 for helping to save the life…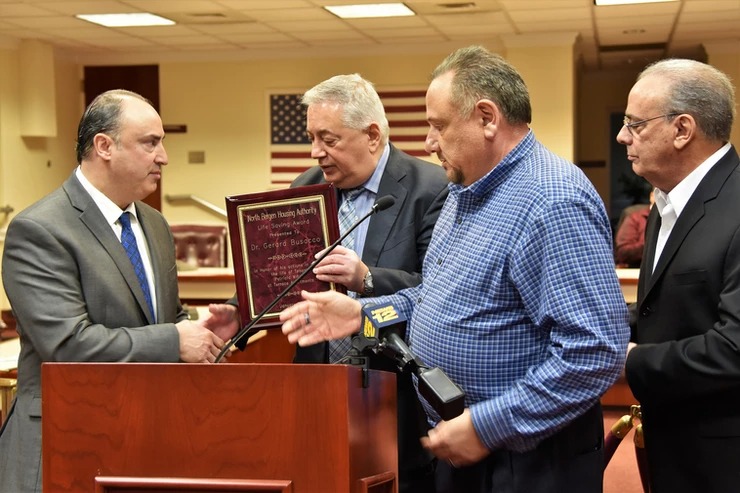 Mayor Nicholas Sacco presented a plaque to local chiropractor Dr. Gerard Busacco on Wednesday, Feb. 20, 2019 for helping to save the life of a North Bergen Housing Authority (NBHA) resident who had collapsed in her apartment.
Dr. Busacco has been visiting weekly with NBHA seniors since 2000 in a program initiated by Mayor Sacco and NBHA Executive Director Gerald Sanzari. When one of his regular attendees, 72-year-old Patrica Witzki, did not show up for a late January session at the Terrace Apartments, Dr. Busacco took notice and decided to look into it.
"We called her apartment several times but received no answer, so Leroy, the supervisor of maintenance, and I went up to her room and went in," said Dr. Busacco. "She was lying face-down and unresponsive."
Dr. Busacco quickly put a pillow under her head and had Leroy call 911. Holding her hand until EMTs arrived, Dr. Busacco spoke to Witzki the whole time, then explained her medical history to the paramedics, who transported her to Palisades Medical Center.
"When I spoke with the doctors there, they told me she would not have survived if I hadn't had made it to her when I did," Dr. Busacco said. "I have to thank the mayor and the North Bergen Housing Authority for making this program possible."
"When you manage senior buildings, and we have four of them, there's sometimes a very different ending than the one we had here, and we're so glad this was able to have a happy ending," said Sanzari. "For Gerry Busacco to make that stop to check on her, it's not something everyone would think of."
"We're happy you showed the initiative that you did when you noticed a missing person from the group," said Mayor Sacco. "All of North Bergen thanks you for what you did."
Witzki was released from the hospital on Feb. 20. Her daughter is due to give birth to Witzki's first grandchild in March.