The Castle in North Bergen
The Garden State Crematory has been an ever present land mark on Kennedy Boulevard since its opening in 1907. It is the final resting…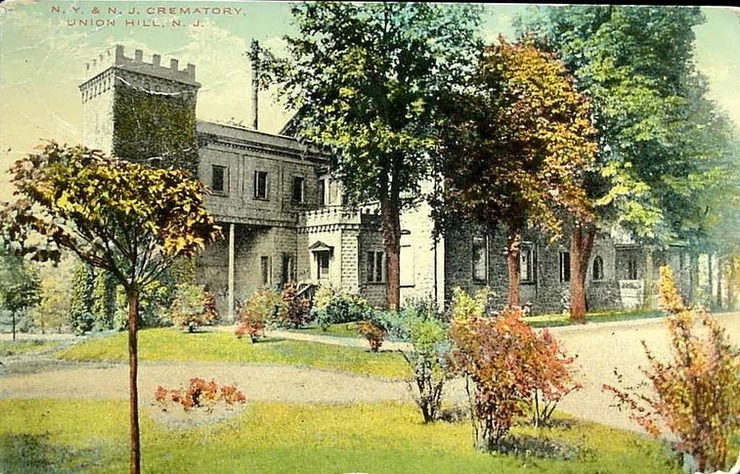 The Garden State Crematory has been an ever present land mark on Kennedy Boulevard since its opening in 1907. It is the final resting places of locals and celebrities, most famously the likes of Joan Rivers & Sid Vicsious as well as actors from the golden age of television Albert Dekker & Conrad Nagel. But it is often not known by the residents of North Bergen that the building was originally constructed in the 1850s. Along with being unaware it may be the oldest structure in town, a majority of residents do not know that it was once home to the family of Louis Becker and dubbed Becker's Castle.
A castle in North Bergen? Yes! The estate belonged to one Louis Becker. Becker, born in Oldenburg, Germany immigrated to the United States in the late 1830s. By 1848 the Becker family took up residence in North Bergen. The Becker family was made up of wife Cecilia and children: Antoinette, Emil, Charles, Louis and the youngest Edith. But how exactly does one raise enough money to build a castle in North Bergen.
Building a home is one thing, but a castle would have an astronomical price tag, especially during the mid 19th century. Becker was a insightful businessman and saw early Hudson County as a land ripe for development. Becker made his fortunes in real estate speculation, purchasing land throughout present day North Bergen, Union City, Weehawken and Hoboken. He would then subdivide the properties and auction them to the highest bidder, sight unseen. In one such instance, Becker raffled off properties in a tract of land that would be located today between Kennedy Boulevard and Park Avenue, locked by the cross streets of 47th and 39th streets. The sell off went as planned and the buyers ventured from New York City to their new properties in New Jersey. To their surprise the land was undeveloped and in some cases marsh like or dense wooded areas. Unfortunately for them Becker did not have a return policy and would charge $2.50 a month, plus interest, until the purchase price was paid.
Becker amassed a fortune in land speculation. His estimated value in 1870 was roughly $125,000, comparing that to today he'd be equally worth around $2.2 million. Around 1875 Becker would retire and tend to the gardens on his estate. According to the 1880 Census, Becker would list his occupation as a florist. Louis Becker would live in his castle until his death in June of 1895. The funeral for Becker was held in the Becker home and he was inturned on the property (now Weehawken Cemetery). The service was conducted by Revered Issac Gowan of Grove Reformed Church. His family would continue to live there until the turn of the century, eventually putting it up for sale. It would be purchased by the New York & New Jersey Cremation Company and was fully converted by 1907.
The exterior of Becker's Castle has been completely wiped clean. From the blue stone entrance to its gothic revival stonework of the home itself. Inside the grand rooms were divided. The ornate fixtures and fireplaces removed. The memory of the castle is also long gone from North Bergenities memories. Yet, it seems almost fitting. Becker made his fortune in land development and essentially in some poetic way his home, his life's work was redeveloped over and over. However, from a historical standpoint it is a pity that Becker's Castle was repurposed and the architectural detail both inside and out are lost to time. It was a true piece of grandeur that could have been the centerpiece of a Kennedy Boulevard that never was.