The Story Behind the Pyramid Mausoleum in North Bergen
C. F. Harms, is a name certainly forgotten to time. His legacy however, lives on in North Bergen for all eternity. The name may not jump…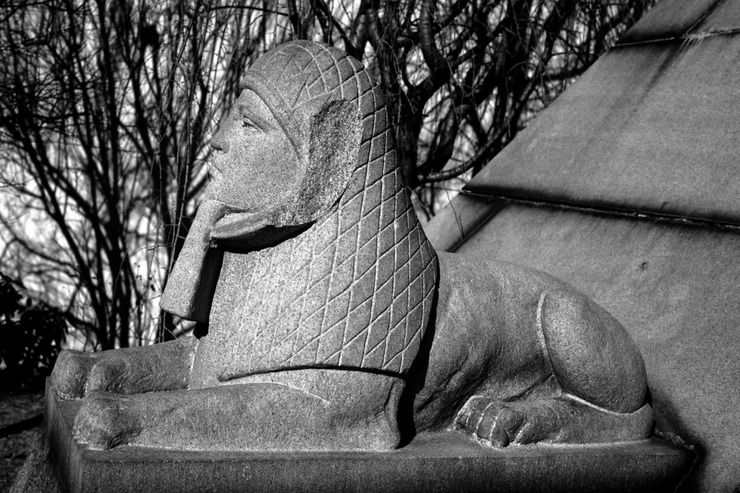 C. F. Harms, is a name certainly forgotten to time. His legacy however, lives on in North Bergen for all eternity. The name may not jump off the page like James J. Braddock, but Harms has a lasting affect in town by providing perhaps the most unique landmark in Hudson County. I bet by now you are starting to think what landmark could it be. If you've ever visited Flower Hill Cemetery it will stand out immediately amongst the other mausoleums and final resting places. The spectacular but highly unusual pyramid mausoleum is the final resting place for Charles Frederick Harms since his passing in 1918.
Let's get one thing straight, C.F. Harms…not Egyptian, so what gives with the pyramid and sphinxes? Harms was had a lifelong interest in astronomy, a true stargazer. He was also a very wealthy man, owning the C.F. Harms Company, a lighterage company operating in the New York waterways. Harms was able to afford the luxury of a trip of a lifetime to Egypt in 1912. It was there that Harms stood in awe as he viewed the Great Pyramid of Giza. It was there standing in the sands of of the pyramid complex the businessman from Hoboken would find the inspiration for his final resting place. 
Upon his return he updated his will and established the construction of the family mausoleum to replicate that of the great pharaohs.  The pyramid stands twenty feet high and is made of the finest  granite the state of New Hampshire had to offer. The tomb is also complete with two sphinxes. Was Harms just that obsessed with Egyptian structures? NO! The sphinx in Egyptian culture was a benevolent but ferocious creature used as guardians to temples. What could they be protecting? It may just be the Harms family's fortune! Probably not, the sphinxes are most likely included as architectural detail, inspired by Harms adventure in the Nile River basin.
Thanks to Harms' fascination with the heavenly bodies, North Bergen is home to the only pyramid mausoleum in the state of New Jersey.