Repost: North Bergen cat survives arrow lodged through body, GoFundMe started for medical needs
On Thursday morning Kelly Shannon went out to feed a few friendly neighborhood feral cats, just like she always does before work every…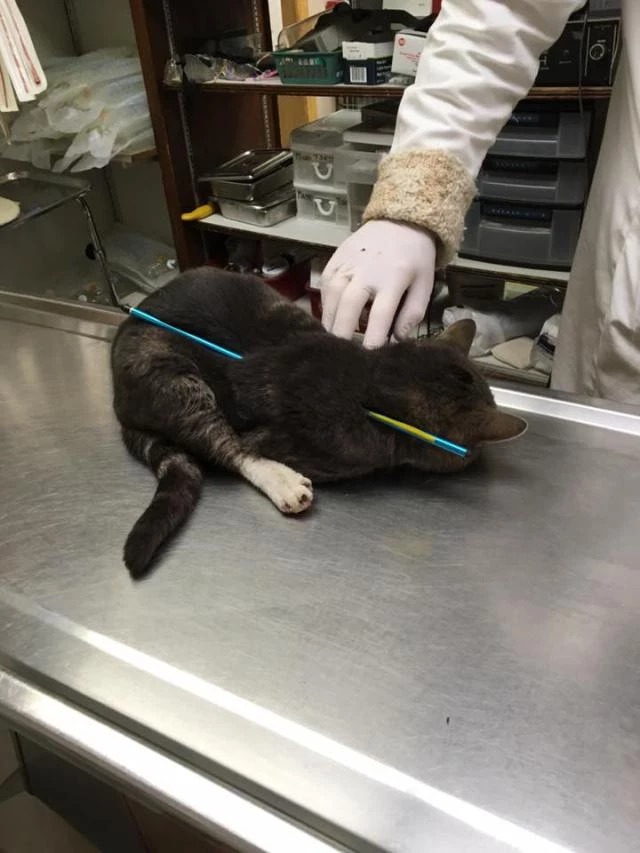 On Thursday morning Kelly Shannon went out to feed a few friendly neighborhood feral cats, just like she always does before work every day. Imagine her horror and surprise when she found one of her favorites, a sweet, gentle male named Sparky, wounded with an arrow.
Originally posted by Maria Musings.
In fact, the arrow was still protruding from his body, and it was evident that the person who shot Sparky did so while he was facing the shooter. The arrow struck him in the left shoulder area, and the tip exited his left flank, leaving the shaft embedded in his body.
Enlisting the aid of a kind neighbor, Kelly was able to get him in a travel crate and immediately took him to her veterinarian. She remarked to me on the phone this morning while I was gathering facts for this blog, that he remained sweet, gentle, easy to handle and trusting, despite being scared and in pain.
Sparky is currently in the care of The Animal Clinic of Bayonne and we are pleased to report that the arrow did not pierce vital organs and right now his prognosis is fair. Sparky will also be neutered, given all of his vaccinations, and tested for FeLV/FIV while he is recovering from his wounds. Kelly would love to get this sweet boy a home. He deserves to have a loving, forever home after this ordeal.
A GoFundMe fundraiser has been set up for Sparky's care, and updates will be posted on the fundraiser, along with bills, so everyone can follow his treatment and recovery. GoFundMe donations will be directed to Kelly's paypal. All funds will be accounted for in a quick and transparent manner. If Sparky's financial needs are completely met before reaching "goal" – the fundraiser will be stopped. All funds will be for Sparky's veterinary care (surgical recovery and standard treatment, including labs, medications and imaging, neutering, vaccinations, diagnostic testing) and efforts to find him a good home.
GoFundMe – Help for Sparky – shot by arrow!
If you would like to help with Sparky's veterinary care directly, you may contact the clinic to make a payment over the phone, or send a payment by mail. PLEASE DO NOT CALL THE CLINIC FOR UPDATES! They have agreed to take calls for payments and are aware that Sparky's story is on social media. Updates will be routinely posted on Kelly's profile, this blog, and Sparky's fundraiser. Help is appreciated, but keep in mind this is an animal hospital and a place of business. We don't wish to cause any disruption to their daily routine.
The Animal Clinic of Bayonne
926 Broadway
Bayonne, New Jersey
(201) 437-6666
ACCT. INFO – "SPARKY SHANNON"
Below are photos taken yesterday at The Animal Clinic of Bayonne while Sparky was being initially examined.
THIS INCIDENT IS UNDER INVESTIGATION!
We wish Sparky well and hope that his recovery is swift and complete. We also hope that efforts to find him a good home will have a positive outcome. We hope that the person who shot him is found and brought to justice. Please share Sparky's story, he matters.
Originally posted by Maria Musings.
UPDATE FOR SPARKY from Kelly Shannon on Sunday 1/15/17:
Sparky is doing as well as can be expected today. He had to be sedated so his drains could be cleaned. The drains are still in. Everyone at The Animal Clinic of Bayonne is taking good care of him!