Remembering Joshua Huayamave: North Bergen Community Mourns Loss of Beloved Dog Walker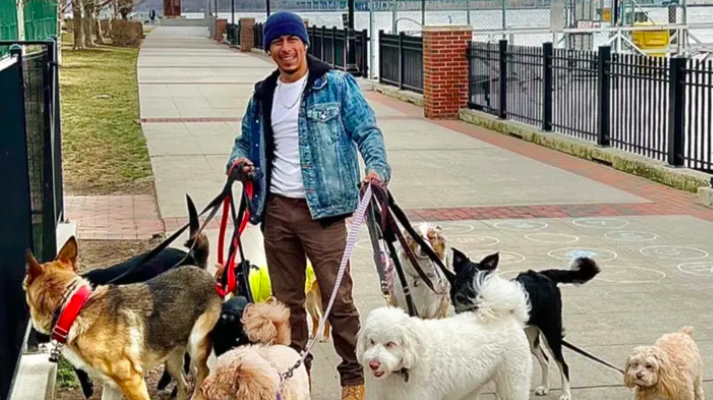 NORTH BERGEN, N.J. — The North Bergen community is grappling with the tragic loss of a beloved dog walker, Joshua Huayamave, who was fatally struck in a hit-and-run incident on May 5, 2023. The Hudson County Regional Collision Investigation Unit and the North Bergen Police Department are actively investigating the incident, while the community remembers Huayamave for his compassion, leadership, and love for animals.
Huayamave, a 23-year-old North Bergen resident, was known for his deep love for animals and had turned this passion into a successful dog-walking business. His clients remember him for his kindness and dedication, particularly towards special needs pets. "He was our dog walker for three years," said Maria Coyle, a client with a special needs dog. "He was so good with taking his time and putting him in his wheels."
The tragic incident occurred on the evening of May 5 when police discovered a motorcycle abandoned near the intersection of Granton and Liberty Avenues. Huayamave was found unconscious several blocks away and was rushed to the Palisades Medical Center, where he was pronounced dead at around 9:40 p.m.
"It's tragic. It's devastating, shocking for the community," said Abbey Banegas, another one of Huayamave's clients. The community has since rallied to support Huayamave's family, and a GoFundMe account has been set up to help with expenses.
Daniela, a co-owner of Pawtanicals in North Bergen and the creator of the GoFundMe, shared her memories of Huayamave: "When we met Josh, he was starting his dog walking/adventure business and scaled it up to what it was until today. His generosity and the way he connected with the dogs he took care of was rare. He always brought light and positivity whenever he walked in."
On May 9, Julian Palacios, 30, of Jersey City, was arrested in Long Branch, NJ, in connection with the hit-and-run. He has been charged with knowingly leaving the scene of a motor vehicle collision resulting in death and obstruction. Palacios is currently held at a local medical facility and will be transported to the Hudson County Correctional Facility pending his first court appearance.
PRESS RELEASE: Man Charged in Connection with North Bergen Hit-and-Run pic.twitter.com/Qg4Hv98Tck

— ProsecutorSuarezHCPO (@HCPOProsecutor) May 9, 2023
Authorities continue to urge anyone with information about the incident to contact the Hudson County Prosecutor's Office at 201-915-1345 or submit tips online at the Hudson County Prosecutor's Office website. As the investigation continues, the community mourns the loss of a young man known for his love for animals and dedication to their care.
**Anyone wishing to support the family of Joshua Huayamave can do so through the GoFundMe page set up in his memory.