North Bergen Police Promotes 7 Officers
North Bergen Police Chief Peter Fasilis served as master of ceremonies for an Oath of Office Ceremony on Wednesday, Sept. 23, 2020 during…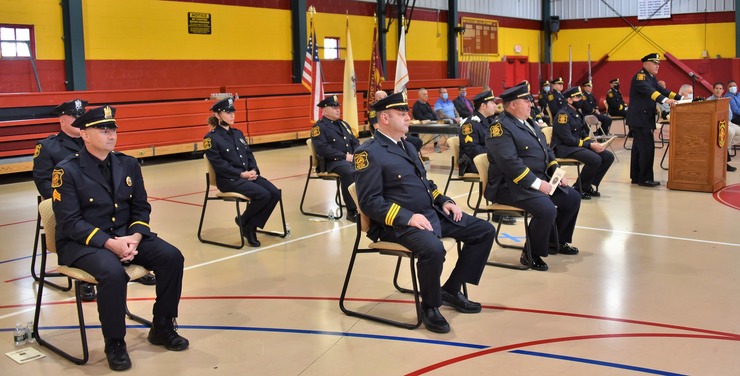 North Bergen Police Chief Peter Fasilis served as master of ceremonies for an Oath of Office Ceremony on Wednesday, Sept. 23, 2020 during which seven officers of the NBPD received promotions.
Promoted to sergeant were Constantinos Apostolakos, Kaylan Tarabocchia, and Yusef Yousef. Promoted to lieutenant were Edward Moyano and Anthony Caramucci. Promoted to deputy chief were David Corbisiero and Robert Farley, Jr.
Mayor Nicholas Sacco and Public Safety Commissioner Allen Pascual offered their congratulations to the officers and spoke of the township's commitment to funding and supporting the police department, before swearing in the officers to their new roles.
This was Chief Fasilis' first time hosting a promotion ceremony, after being sworn in on May 2 – just in time to helm the department through the coronavirus pandemic, the Black Lives Matter movement, a major storm, and more. He spoke of the township's ongoing commitment and success with community policing, and noted that the department would be hiring new officers next month.
Pastor Paul Haviland offered the invocation and benediction, with Lt. Victor Queiro providing the welcome address at the event. Also attending were Commissioners Hugo Cabrera and Julio Marenco, Freeholder Anthony Vainieri, Hudson County Sheriff Frank Schillari, Township Commissioner Chris Pianese, and many other township and regional officials.
The ceremony took place inside the NB Recreation Center, where the families, friends, and supporters of the officers were able to sit comfortably and maintain social distancing while expressing their enthusiastic support for the newly promoted officers.