Nick Sacco, JR: I didn't mean it to be racist
The son of one of New Jersey's most powerful politicians, Senator and Mayor Nicholas Sacco, and North Bergen High School Vice-Principal,…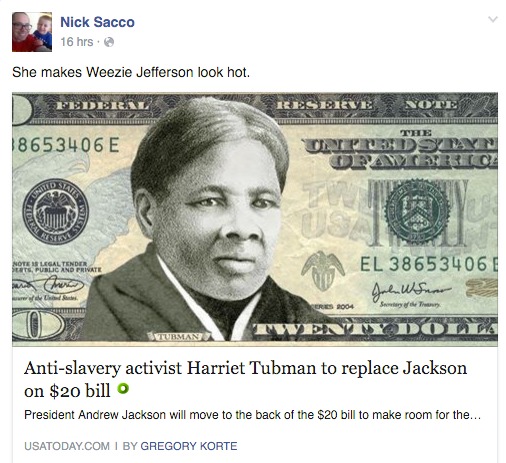 The son of one of New Jersey's most powerful politicians, Senator and Mayor Nicholas Sacco, and North Bergen High School Vice-Principal, Nick Sacco, Jr. is under fire for what is thought to be a racially insensitive post about the announcement of American abolitionist Harriet Tubman on the new $20 bill.
Update: Nick Sacco Jr. has deleted his post shortly after this article was posted.
On his Facebook page, Sacco JR., compared the likings of Harriet Tubman to Weezie Jefferson, a character from the black sitcom of the early 80's, the Jeffersons.
The post reads "She makes Weezie Jefferson look hot" along with a USA Today article displaying Tubman on the face of the bill.
Gabriela Moncayo, a North Bergen resident, says "I can't even begin to understand how a person in [his] position [VP of North Bergen High School] of influence could think this post is funny or appropriate. Here is a white man calling not 1, but 2, black women ugly. Both happen to be black American heroes."
Other reactions on the comments were less offended and more supportive of Sacco's JR comments as seen by, Rosemarie Villanova, who confused Harriet Tubman as "a guy" and suggested the treasury to "pick a better picture".
This is not the first time Sacco and his administration have been under fire for racially insensitive comments. During last years BOE election, Sam Jaafar, made offensive comments about Indian and Hispanics Americans.
Jaafar, who currently sits on the board of education, made remarks about needing to "get away from" Mexicans in North Bergen before taking a vacation to Cancun and mocked Indian accents by posting "Why do all Indians filling up my tanks always ask me for my jip code? All these guys are honor students but can't say the Z sound"
Nick Sacco, Jr. has defended his post by saying "It was a joke. I didn't mean it to be racist. I know I'm not a hottie, and 200 years from now I wouldn't want them to put the worst picture possible of me on the 20 dollar bill."