E-Rod to Host 5th Annual Youth Football Clinic, Cheerleading Added to Program
Evan Rodriguez, the former standout quarterback and safety Bruin and NFL player, is hosting a free youth football camp. On his official…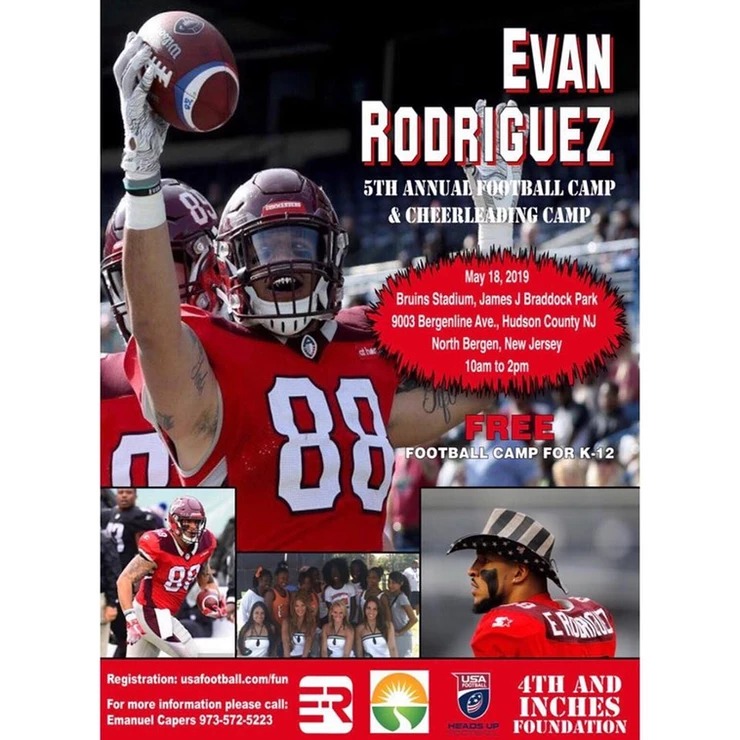 Evan Rodriguez, the former standout quarterback and safety Bruin and NFL player, is hosting a free youth football camp.
On his official Facebook page reads, "Come out & join us on May 18th for my 5th annual free youth football camp in my home town of North Bergen. This year we will also have cheerleading coaches so young Queens can participate too."
Let's all come together and bless these kids with a great day of fun. I would like to Thank Mayor Sacco for letting us continue to make a difference in the community."
The camp will be held on May 18th, 2019 from 10:00 am to 2:00 pm. The camp is open to all children ages 6-17 at Vincent Ascolese Field in James J. Braddock park.
The camp is sponsored by USA Football which works with more than 150 current and former NFL Players to deliver football camps for youth and high school athletes.
Rodriguez clinic introduces children to football by teaching basic skills in a fun and energetic environment. Certified clinicians use a series of drills to show passing, catching and running skills in a non-contact setting.
All skills and drills selected are based on USA Football's Player Progression Development Model, ensuring children are learning in an age-appropriate manner and creating an ideal atmosphere.
Parents may sign up their children by clicking here.
See the time Ramy visited the 3rd year of E-Rod's Youth Football Camp.