'Shave-Off' Event Closes Month-Long Fundraiser to Fight Cancer
"No Shave November" concluded with a "shave-off" event on Thursday, Nov. 29, 2018 with barbers from The Jagged Edge Spa & Salon pruning…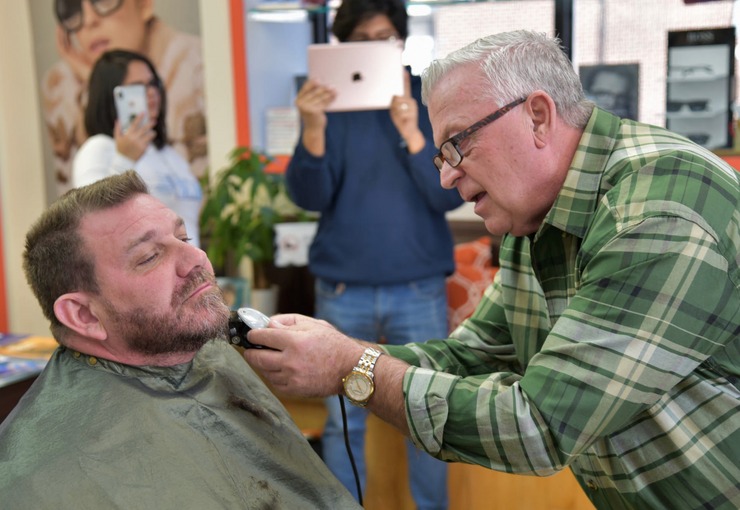 "No Shave November" concluded with a "shave-off" event on Thursday, Nov. 29, 2018 with barbers from The Jagged Edge Spa & Salon pruning the collective whiskers of North Bergen's finest.
About 80 officers in the North Bergen Police Department participated in the fundraiser this year, growing their beards and contributing to Fight CRC, an organization dedicated to raising money for research and awareness about colorectal cancer. Although CRC is the #2 cancer killer among men and women combined in the U.S., the disease is treatable if caught early, so the NBPD urges everyone to get screenings.
It was an early screening that identified the disease in Bob Ceragno, owner of Eye Contact Vision Center in North Bergen, and allowed him to get life-saving treatment several years ago. Since then he has been a vigorous advocate for Fight CRC, and has sponsored No-Shave November and the annual Shave-Off for the past three years.
This year about $5,000 was raised between the NBPD, Guttenberg PD, North Hudson Regional Fire & Rescue, Englewood Hospital, and other donors.
Police Chief Robert Dowd strongly encouraged police officers to participate in the drive as part of his focus on health and well-being in the department. Public Safety Commissioner Allen Pascual was among the individuals who let their beards grow for the month.
The Shave-Off saw numerous local and regional media descend on Eye Contact vision center to watch participants file up, take their seats in the barber chair, and walk away clean-shaven.