Sen. Menendez Indicted: Gold Bars, Cars, and Egyptian Czars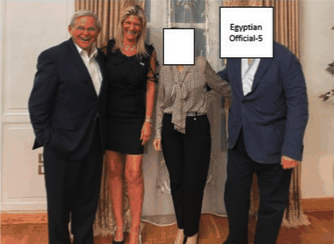 Bob Menendez, New Jersey's senior U.S. Senator, once a beacon of hope in Hudson County, is now facing allegations that could tarnish his legacy. A recent indictment suggest a web of corruption, with Menendez and his wife, Nadine Menendez, at its center.
According to the indictment, from 2018 to 2022, the Menendez couple allegedly entered into a corrupt relationship with three New Jersey businessmen: Wael Hana, Jose Uribe, and Fred Daibes. The accusations are staggering: the couple is said to have accepted hundreds of thousands of dollars in bribes. In return, Menendez allegedly used his senatorial influence to protect and enrich these businessmen and even benefit the Arab Republic of Egypt.
The bribes weren't subtle. They ranged from cold hard cash to gold bars, payments towards a home mortgage, compensation for a questionable job, a luxury vehicle, and other valuable items.
But what did these businessmen get in return? The indictment outlines a series of official acts by Menendez:
Aiding Egypt and Hana: Menendez allegedly provided sensitive U.S. Government information to benefit Egypt and Hana, an Egyptian-American businessman. He's also accused of pressuring a U.S. Department of Agriculture official to protect a business monopoly granted to Hana by Egypt.
Protecting Uribe: Menendez reportedly used his influence to disrupt a criminal investigation related to Jose Uribe and his associates by the New Jersey Attorney General's Office.
Influencing U.S. Attorney Nomination: Menendez is said to have recommended a U.S. Attorney nominee for New Jersey, believing the nominee could be influenced regarding the federal prosecution of Fred Daibes.
The evidence seems damning. In June 2022, federal agents searched the Menendez home and safe deposit box. They discovered over $480,000 in cash, much of it hidden in envelopes stashed in clothing and closets. They also found over $70,000 in Nadine Menendez's safe deposit box. Some envelopes even bore the fingerprints or DNA of Daibes or his driver. But the most cinematic discovery was the luxury vehicle in the garage, home furnishings, and over $100,000 worth of gold bars, gifts allegedly from Hana, Uribe, and Daibes.
For the residents of Hudson County, this is a story of betrayal. The young corruption fighter, who once stood tall against wrongdoing, now stands accused. As the legal proceedings unfold, the community watches, hoping for clarity and justice.