Purchase of Territory of North Bergen from the Indians
Since 1939 there has been North Bergen landmark sitting at the corner of 46th Street and Tonnelle Avenue. The Post Office at 4600…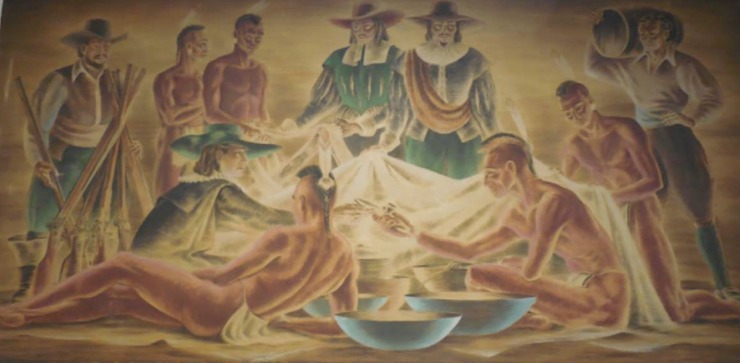 Since 1939 there has been North Bergen landmark sitting at the corner of 46th Street and Tonnelle Avenue. The Post Office at 4600 Tonnelle Avenue has been a lasting reminder of the work done under President Franklin Roosevelt's New Deal. The building itself was designed by Louis A. Simon, a designer with a "conservative-progressive" approach, with the hopes of displaying "art, beauty, symmetry, harmony and rhythm." This Post Office was not of revolutionary design nor of technological advancement. What is of interest, however, lies on the inside – a reference to a truly forgotten time in North Bergen history.
What the most remarkable aspect of this Post Office is the artwork crafted by Avery Johnson which still graces the back wall. Johnson a native of Wheaton, Ill was one of many artists tasked by the United States Department of Treasury's Section of Painting and Sculpture. "The Section," as it became known, was one of the many ways the government tried to raise employment during the Great Depression, specifically in the art community. Johnson was one of the artists selected with the goal of making art available to all people, one of his finest works would be for the people of North Bergen. However, Johnson was instructed that his work should be of local interest and related to the area. He would deliver a masterpiece which he titled "Purchase of Territory of North Bergen from the Indians."
"Purchase of Territory of North Bergen from the Indians" was completed in 1942. North Bergenites flocked to the Post Office to see Johnson's work. The mural has remained in the Post Office and is still in excellent shape for being 76 years old. However, impressive as Johnson's work is, it leads the historian in me to dig deeper into who these "Indians" were. Who are they? Did they actually live in what would become North Bergen, and if so where? And what legacy have they left behind?
Lenepahoking or what would eventually become New Jersey was once home to the Lenni Lenape people. The Lenape phantry that would have inhabited North Bergen were theAchkinkas-hacky, a name that would be anglicized to what we know today as "Hackensack." It is estimated by Edwin Burrows and Mike Wallace that the Hackensack had roughly 80 encampments in present day Hudson County prior to European contact. Of those the largest would have been Gamoenapa, the modern day Communipaw neighborhood in Jersey City. Then, Hackensack would number near 1000 people, of which 300 were warriors. The tribe itself was a peaceful tribe, seasonal in its agriculture as well as migration. In the spring and summer the tribe made encampments along the Hudson or as they would have referred to it, the Muh-he-kun-ne-tuk meaning "river that flows two ways." During the fall and winter months they moved their settlement further off the shore into current day Hackensack and Teaneck area. They would move their main settlement Tantaqua every year to allow the ground to renew itself, today the most likely location for Tantaqua is in Overpeck Park. What happened to the Hackensack? Where did they go? Why did they go? And what is their legacy today? What happened to the Hackensack is the unfortunate story of all Native American groups. With European arrival there was war and eventually land deals that deeded the land to the Dutch and British. such a deal was made for North Bergen. After Kieft's War in 1643, natives controlled the area that would become North Bergen. The land was sold on January 30, 1658 along with every territory that now makes up northern Hudson County. What was it sold for?
80 fathoms of wampum, 20 fathoms of cloth, 12 brass kettles, 6 guns, 1 double brass kettle, and half a barrel strong beer.
This is estimated to have been worth roughly $675 dollars by historians in 1917, equalling $14,048.84 today. By 1750 the state of New Jersey would have purchased all the Lenape land in the state for $5,000 dollars, $161,134.75 today.
The the remaining Hackensack and Lenape would leave New Jersey towards the beginning of the 19th century. They dispersed to other states and assimilated with other tribes. But what of their legacy? In North Bergen the Hackensack would leave no trace, or better said, over the last 400 years of development and redevelopment, any and all evidence of native society in North Bergen has been erased. However, there is some lasting remnants of the Hackensack in the Hudson County area. Find listed below some obvious and not so obvious Umani words we use in regards to Hudson County and other familiar areas:
gamoenapa/Communipauw – on the other side of the river

ack-kinkas-hacky/Hackensack – place of stony ground

haassemus/Harimus – crow's marsh

hopoghan hackingh/Hoboken- place of stone for pipes

lackawanna/Delaware, Lackawanna and Western Railroad – stream that forks

manna-hata/Manhattan – island of many hills

pahsaayeek/Passaic – point of rocks

sukit-achgook/Snake Hill – black snakes

sekakes/Secaucus – snakes

wee-awken/Weehawken – at the end

parampseapus/Paramus – where there is worthwhile land
For more information on the Native American history of North Bergen and the greater Hudson County area check out these great sources:
The official Nanticoke-Lenape website
Originally posted on The North Bergen Time Machine
Michael Maring is a history buff turned history teacher based out of North Bergen, NJ. He has lived in North Bergen his entire life and enjoys spreading the unique history about our town. His goal with North Bergen Time Machine is to spark interest in the history of North Bergen.