Progressive Democrats Endorse North Bergen Candidate
"We are proud to officially ENDORSE Stephanie Rosas-Garcia for County Committee in North Bergen 5-5. Stephanie supports policies that…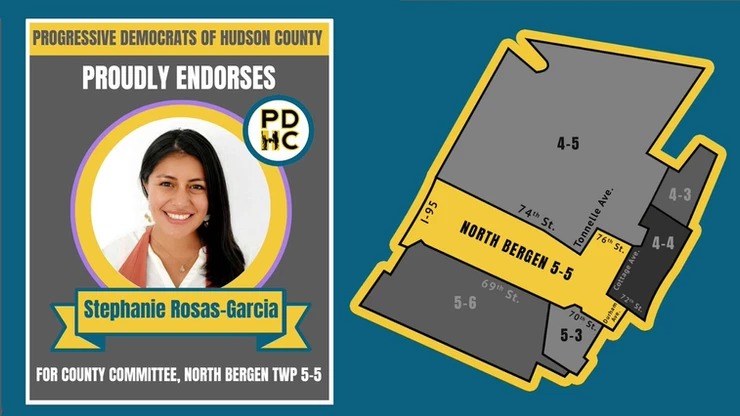 "We are proud to officially ENDORSE Stephanie Rosas-Garcia for County Committee in North Bergen 5-5. Stephanie supports policies that strives to advocate for immigrant rights, gender inclusiveness , social, economical and racial justice," writes the Progressive Democrats of Hudson County.
Rosas-Garcia is running in North Bergen 5th Ward – District 5.
Each of the major parties has a party structure that is comprised of elected committee men and committee women. The party committees endorse and work to elect party candidates to all state and local positions (e.g., mayor, council).
The NJ Law referencing the parties' state committees is NJSA 19:5-4: "The members of the State Committee of each of the political parties shall be elected at the primary for the general election of the year in which a Governor is to be elected." That is, State Committee members are elected in the primaries, every 4 years.
According to Rosas-Garcia's LinkedIn Page she earned her Master's Degree in Public Policy Analysis at New York University and has a Bachelor of Science in Public Health from Rutgers University.
The primary election will be held on June 8th, 2021 from 6am-8pm.