North Bergen Student, Joel Lima, Receives Free Laptop After Act of Kindness
NORTH BERGEN, NJ — At the Board of Education meeting in North Bergen High School on June 26, school district officials and retired police…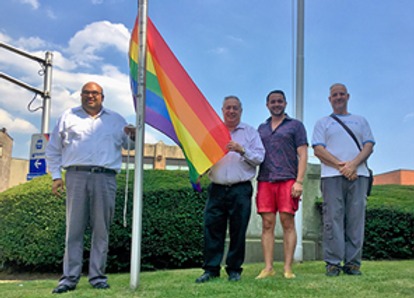 NORTH BERGEN, NJ — At the Board of Education meeting in North Bergen High School on June 26, school district officials and retired police officer Joe Sitty presented 11-year-old Robert Fulton School student Joel Lima with a new laptop for his outstanding act of kindness. During the "L.E.A.D. Program" held by Officer Sitty, Lima won a bicycle in a raffle but chose to donate it to his friend, Bradley Guzman who did not have a bicycle. 
"It is important to reward these acts of kindness by students so they are aware that they haven't gone unnoticed," said Superintendent of Schools Dr. George Solter. "Positive reinforcement is something we strive for in the North Bergen education system, and it is wonderful to see the inspiring results of these practices." 
The L.E.A.D. program stands for Law Enforcement Against Drugs, and was created 20 years ago to educate students on the dangers of drug use and teach them the benefits of a healthy lifestyle. The program is funded by the Governor's Council on Alcohol and Drug Abuse, the North Bergen Board of Education and the North Bergen Police Department. 
"Seeing these acts of kindness is what it is all about," said Officer Sitty, a former member of the North Bergen police force for 25 years. "We go big or go home," he said before presenting Joel with his new laptop, wrapped in personalized wrapping paper alongside a certificate. 
Joel was surrounded at the meeting by his family members, who were all eager to congratulate him, especially his mother Vivian Sosa. Joel had recently received a bicycle as a gift from his parents. She also shared that Joel has been friends with his classmate for two years. Joel plans to use the new laptop for homework and to play video games.