Fake News? Sacco camp slams NBC, claims Wainstein collusion
Another day, another NBC report slamming North Bergen Mayor Nicholas Sacco. "The accusations that make up the foundation of this story…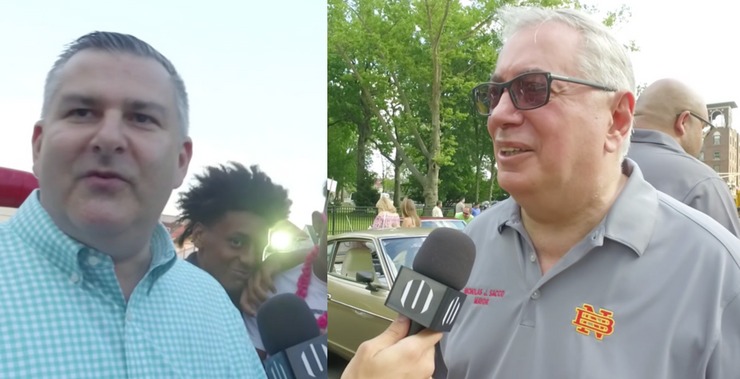 Another day, another NBC report slamming North Bergen Mayor Nicholas Sacco.
"The accusations that make up the foundation of this story are the same political accusations being made by the Sacco Administration's political opponent, Larry Wainstein," said town spokesman Phil Swibinski.
According to the NBC report, insiders claim nepotism – even corruption – are problems inside the North Bergen Board of Education. They report that Sacco, who for years also served as a leading school administrator, has ten relatives working for the education system. NBC also claims town employees are forced to attend fundraisers and donate to political campaigns.
"It is possible the mayor's relatives and friends are superbly well qualified for these jobs. And it is also possible they are not, and that they are there for another reason," said former U.S. Attorney Chuck Rosenberg who is also and NBC News legal analyst. "There is a pattern here that I think cries out for investigation."
Swibinski fired back by stating "the allegations of relatives working for North Bergen and other related entities are grossly exaggerated."
"As with any political entity, fire department, police department, or any private employer for that matter, if the work is stable and the career path is a good one, family members are often likely to follow their mothers, fathers, brothers, sisters, aunts and uncles into the same career paths. North Bergen is no different."
As for the allegations of forcing municipal employees to attend fundraisers, Swibinski pushed back and claimed, "neither Mayor Sacco, nor anyone in his administration, force anyone to engage in political activity of any kind."
"People, including employees, become involved and support the administration because of its great accomplishments – stable taxes over multiple decades, fiscal restraint leading to four bond rating increases over the last 10 years saving taxpayers hundreds of thousands of dollars, a police department that is nationally recognized for both its professionalism and diversity, new parks, new and renovated schools, safe neighborhoods and decreasing crime."