Community Center with field rooftop coming to downtown North Bergen
Mayor Nicholas Sacco and the Board of Commissioners introduced a bond ordinance on Jan. 9, 2019 to build a new North Bergen Community…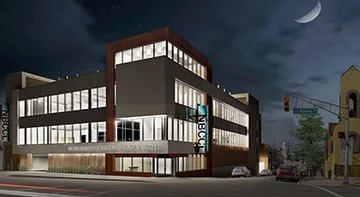 Mayor Nicholas Sacco and the Board of Commissioners introduced a bond ordinance on Jan. 9, 2019 to build a new North Bergen Community Center and Library at 13th Street and Kennedy Boulevard.
The new five-story building will replace the current Kennedy Branch Library with a much larger facility containing more space for books, services, and activities. There will be a computer lab and classrooms, quiet study areas, and multi-purpose community rooms.
In addition, the building will house extensive recreation space for children, including an indoor basketball court with six hoops, fitness classrooms, locker rooms, plus an outdoor fitness area and a securely enclosed recreational field on the rooftop. Two levels of indoor parking will be available.
Plans call for construction to begin within the next six months.
Once completed the new Community Center and Library will provide downtown residents with easy and convenient access to even more sports, entertainment, education, and training opportunities right in their neighborhood.