Train from North Bergen to New York City may be a reality by 2025
The Federal Railroad Administration (FRA) and NJ TRANSIT are jointly preparing an Environmental Impact Statement (EIS) to evaluate the…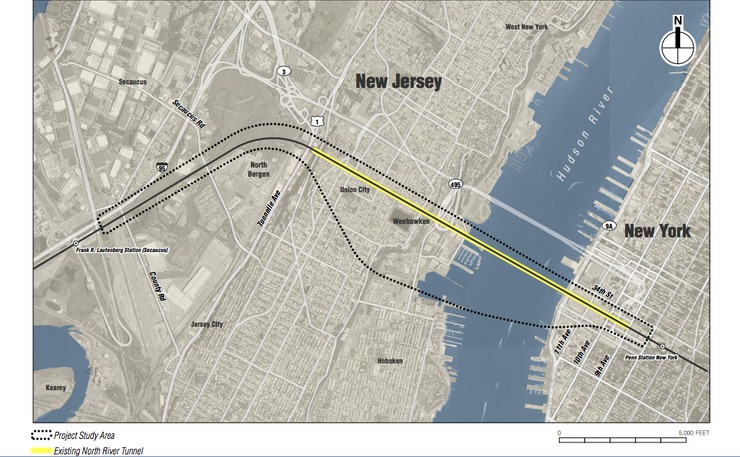 The Federal Railroad Administration (FRA) and NJ TRANSIT are jointly preparing an Environmental Impact Statement (EIS) to evaluate the Hudson Tunnel Project. The Project is intended to preserve the current functionality of the Northeast Corridor's (NEC) Hudson River rail crossing between New Jersey and New York and strengthen the resilience of the NEC.
The FRA and NJ TRANSIT invite you to learn about the proposed Project and the environmental review process. The public scoping meetings, to be held in New Jersey and New York City, offer you an opportunity to provide comments on the scope of the EIS, including the purpose and need, proposed Project and alternatives to be considered, potential environmental impacts of concern and methodologies to be used in the evaluation, the approach for public and agency involvement, and any particular concerns related to the anticipated impacts of the Project.
The public scoping meeting will be held on May 19, 2016 at Union City High School on 2500 Kenned Boulevard Union City, New Jersey.
The meeting will be an afternoon session from 3 to 5 PM with a brief presentation about the Project at 4 PM, and an evening session from 6 to 8 PM with a brief presentation about the Project at 7 PM. The public will be able to review Project information, talk informally with members of the study staff, and formally submit comments to the FRA (to a stenographer or in writing).
Construction of the new Hudson Tunnel is expected to take approximately seven years after obtaining the environmental approvals, permits and real estate, and subject to availability of a steady stream of funding. A preliminary schedule aims to complete the new tunnel by the end of 2025
Read more at HudsonTunnelProject.com