There's a new Chief in town, North Bergen
North Bergen Deputy Chief Peter Fasilis took the oath of office as the 10th Chief of Police in the township's history at a ceremony on…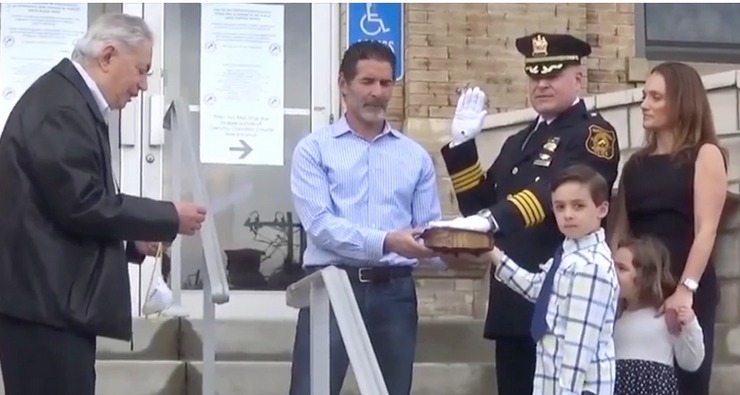 North Bergen Deputy Chief Peter Fasilis Swearing in Ceremony
North Bergen Deputy Chief Peter Fasilis took the oath of office as the 10th Chief of Police in the township's history at a ceremony on the front steps of North Bergen Township Hall on Friday, May 2.
Accompanied by his wife Rachel and his children Dean and Zoe, Chief Fasilis was sworn in by Mayor Nicholas Sacco and Commissioner Allen Pascual. Due to the ongoing COVID-19 pandemic the ceremony was limited to immediate family, designated township officials, and other police officers.
Retired Police Chief Robert Dowd was also honored with an outgoing ceremony.
"It has been a true pleasure to work with Chief Robert Dowd the last 5 years. Not only was the chief a colleague of mine but also a friend. A smart guy with a great sense of humor. His vision and leadership has made the North Bergen Police Department one of the top agencies in the state," says North Bergen Public Safety Commissioner Allen Pascual. "I wish Chief Robert Dowd all the best in his retirement and future professional endeavors"