North Bergen Police Chief Dowd, Deputy Chief Fasilis, invited to the White House
North Bergen Police Chief Robert Dowd & Deputy Chief Peter Fasilis were invited to the White House to meet with the members of the…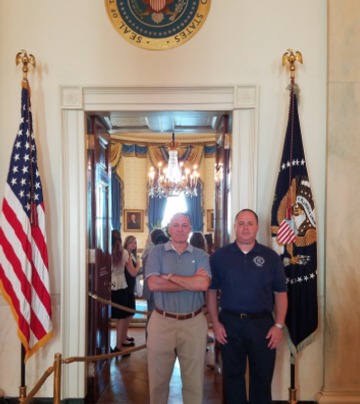 North Bergen Police Chief Robert Dowd & Deputy Chief Peter Fasilis were invited to the White House to meet with the members of the President's senior staff to discuss aspects of the President's Task Force on 21st Century Policing.
"The number one priority of the North Bergen Police Department is to foster a collective efficacy in our neighborhoods for the purpose of promoting the safety and stability of our community. We are committed to utilizing the latest technology, coupled with a philosophy of community policing, in an effort to provide the most efficient, effective and professional delivery of police services," writes Chief Dowd.
On December 18, 2014, President Barack Obama signed an Executive Order establishing the President's Task Force on 21st Century Policing. The Task Force Members sought expertise from stakeholders and input from the public through Listening Sessions, teleconferences and written comments as they worked to identify best practices and make recommendations to the President.
The Task Force recommendations provide solutions to help law enforcement agencies and communities strengthen trust and collaboration, while ushering the nation into the next phase of community-focused policing.
Correction: In an earlier edit we misspelled Deputy Chief Peter Fasilis as 'Basilis'