North Bergen High School middle of the pack when it comes to SAT scores
Last month, the state released the average SAT scores for each high school in the state for the 2014-2015 school year, allowing residents…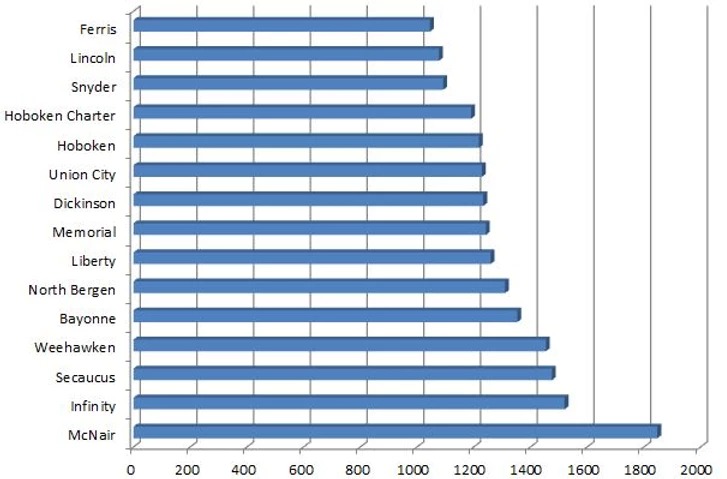 Last month, the state released the average SAT scores for each high school in the state for the 2014-2015 school year, allowing residents to compare how their district did on the standardized test, which many colleges use in evaluating applicants.
The New Jersey Department of Education's annual school performance reports for 2014-15 revealed that the statewide average for SAT scores fell by six points in the 2014-15 academic year, dropping from 1514 to 1508. Some attribute this to rising participation rates, which means more students are encouraged to take the test, even if some may not be prepared. College Board's annual exam results in 2015 revealed a larger and more diverse pool of high school students taking the SAT, PSAT and AP exams than ever before.
In most area schools, participation was high, but some schools such as North Bergen, did not reach the 80 percent goal set by the Department of Education.
The district's average score dropped by 44 points from the previous year's 1355, but North Bergen's SAT averages have consistently stayed above 1300 for the past five years.
Pascual said that about seven years ago, North Bergen High School was pushed by the Board of Education to improve SAT scores and began to search for an SAT Prep program to partner with. Eventually, the high school partnered with Revolution Prep, a private tutoring service. Funded by the Board of Education, SAT prep classes are free for students and offered during after-school hours. In addition to lessons, the program also offers practice exams.
"Before we started this SAT prep, our scores just weren't there," Pascual said. Referring to the practice exams, he said student averages on the exam have increased by 200 to 400 points between the first and last sitting.
Emphasizing the importance of participating in practice SAT exams, Pascual said, "These exams help students figure out their strengths and weaknesses before the actual test."
"We're not at a disadvantage, Pascual said. "Our students have a lot of opportunities."
Read more at HudsonReporter.com