New Restaurant "Café Per Tutti" Opens in North Bergen
Michael Stripoli opened the restaurant La Mia Cantina at 7709 Bergenline Avenue in the 1970s, in a storefront that previously housed his…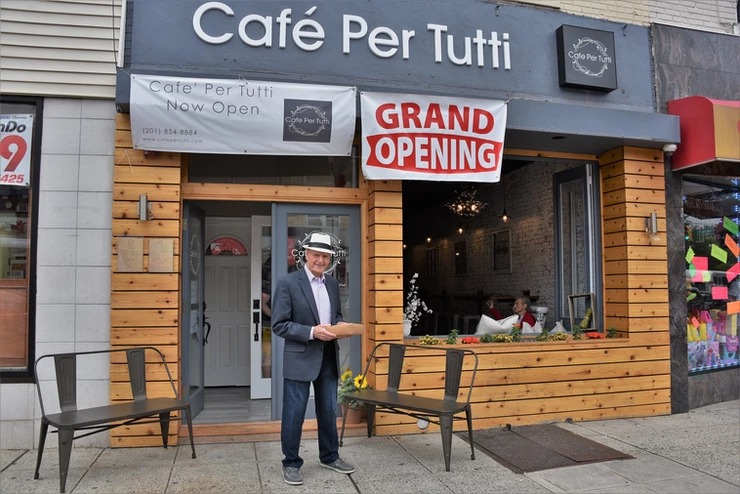 Michael Stripoli opened the restaurant La Mia Cantina at 7709 Bergenline Avenue in the 1970s, in a storefront that previously housed his wife Mary's boutique. After a highly successful run, he moved on to other restaurants and enterprises in the region. Meanwhile a series of other restaurants came and went in the space at 7709 Bergenline, which Stripoli continued to own.
Now, in a triumphant return to tradition, Stripoli's grandson, also named Michael Stripoli, has taken over the space and opened Café Per Tutti, serving classic American food with an Italian, Spanish, and European influence. A skilled chef who trained at Spago and worked for years at top-end restaurants in Hawaii, the younger Stripoli is thrilled to return home to the building where he grew up watching his grandfather make pasta in the basement.
In a gala grand opening, Mayor Nicholas Sacco cut the ribbon officially opening the restaurant on Wednesday, June 19, 2019 accompanied by Commissioner Allen Pascual, Freeholder Anthony Vainieri, Township Administrator Chris Pianese, North Hudson Regional Fire and Rescue Director Michael DeOrio, along with many family members, friends, and supporters. Also present, of course, were the elder Michael, now 95 years old, and Mary, 89.
Currently Café Per Tutti serves breakfast and lunch, offering specialty coffees, teas, and organic juices; artisanal breads, donuts, and pastries; fresh pasta, brick-oven pizza, panini, soups, salads, and more. Everything is made in-house, including the pasta (in the basement, naturally), sourced from local farms and the freshest ingredients.
They will begin serving dinners in July, with a revolving seasonal menu plus specials based on in-season, farm-to-table ingredients.
A true family business, the restaurant was completely redesigned and renovated – a nine-month process – by grandpa Michael's daughter (and grandson Michael's mom), Catherine Licata. The family's goal is to showcase what Chef Michael has learned over his career and bring that international flavor back to their home neighborhood.
Visit www.cafepertutti.com for more information.