New outdoor exercise park opens at Meadowview Village
The North Bergen Housing Authority held a ribbon-cutting ceremony earlier this month to celebrate the opening of new outdoor exercise gym…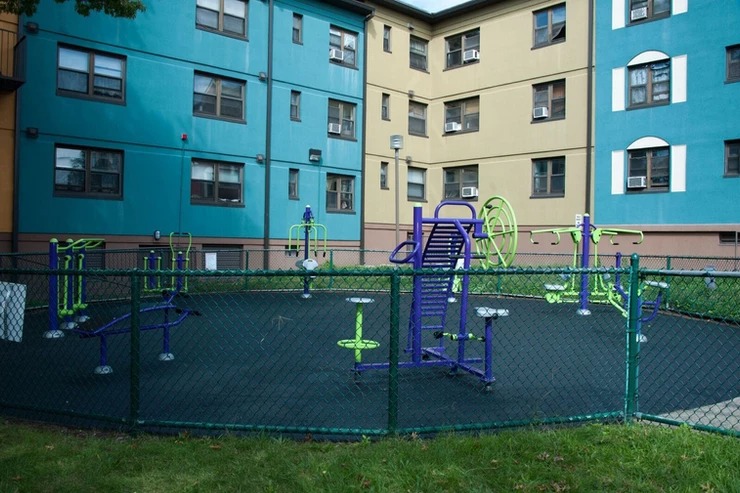 The North Bergen Housing Authority held a ribbon-cutting ceremony earlier this month to celebrate the opening of new outdoor exercise gym in Meadowview Village. Located near the children's playground on Meadowview Avenue, the gym contains eight pieces of outdoor exercise equipment that can accommodate up to 12 individuals at once.
The gym, which is geared toward adult-use, will be open daily from dawn to dusk. Located immediately adjacent to the playground, it allows parents and caregivers to utilize fitness equipment in a neighborhood where many residents would not otherwise have affordable access to a gym – all while keeping a close eye on their children in the playground just a few feet away.
The $20,000 cost of the project was the result of a grant secured by North Bergen Board of Health. The second component of the grant will be met this fall through the creation of monthly farmers markets which will be held in the same neighborhood.
The gym is located near senior housing, schools, and public transportation, as well as the 178 apartments in Meadowview Village, housing approximately 250 tenants. As part of the initiative to promote healthy living and fitness, residents will also be provided with a monthly newsletter offering information regarding use of equipment, disease prevention, nutritious recipes, and more.
The project was coordinated by Mayor Nicholas Sacco, Board of Health Director Janet Castro, Parks & Public Property Commissioner Hugo Cabrera, and NBHA Executive Director Gerald Sanzari.