New Jersey Together Celebrates Hudson County's Initiative to Help Incarcerated Individuals Clear Fines and Fees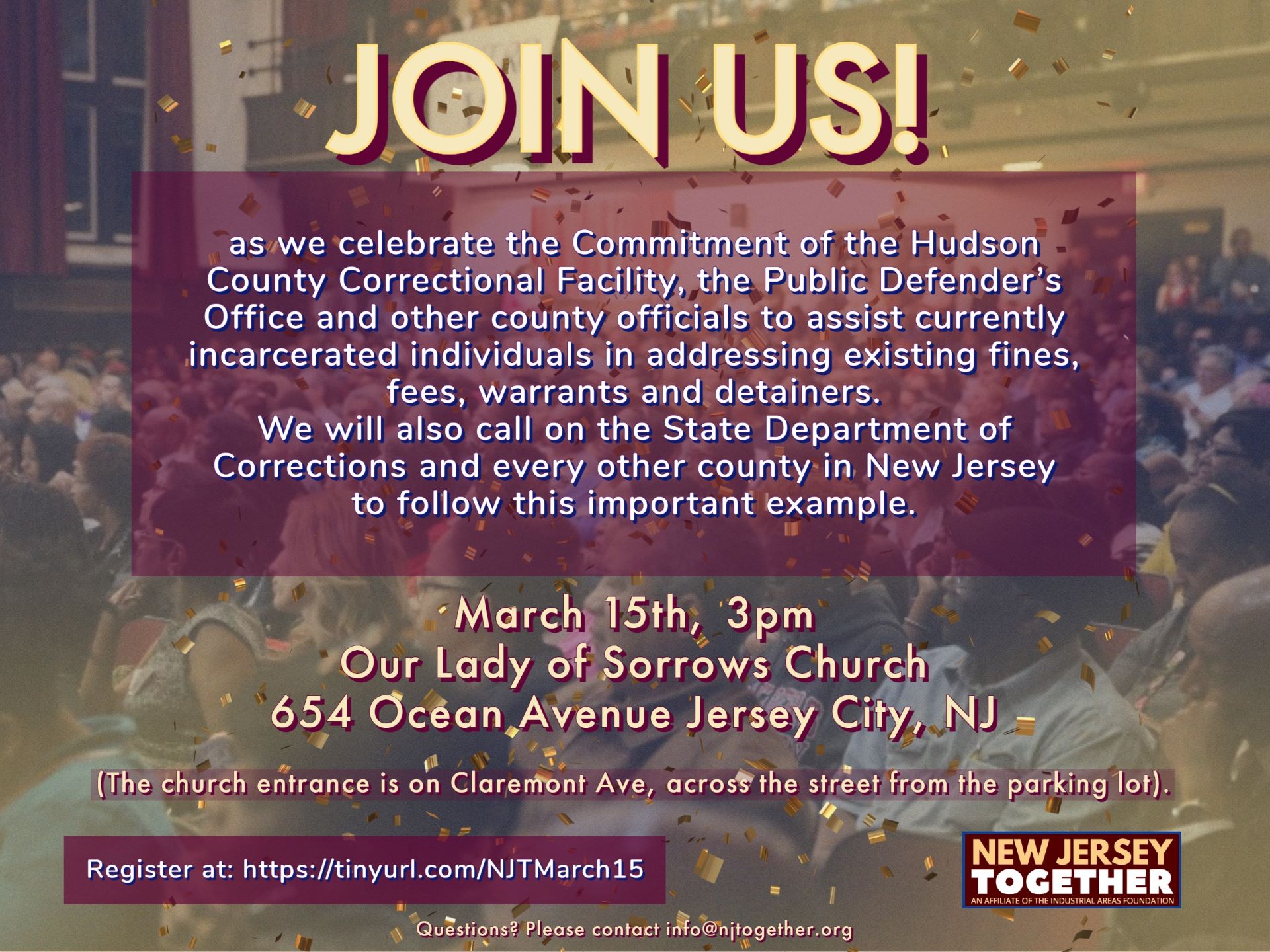 New Jersey Together (NJT), a multi-racial and cross-class network of over 50 congregations and not-for-profits, is celebrating Hudson County's commitment to help incarcerated individuals clear fines, fees, warrants, and more. Over 200 NJT clergy and community leaders from Hudson, Essex, and Morris Counties will gather at Our Lady of Sorrows Roman Catholic Church on March 15th at 3 PM to recognize the initiative and call for statewide expansion.
The move by Hudson County aims to mitigate the economic burden on people re-entering communities by reducing the amount of fines they have to pay post-incarceration, reduce the threat of re-incarceration for other charges, and decrease the amount of time people spend in court post-incarceration, which can interfere with reintegration efforts and employment.
The initiative was a collaborative effort involving members of New Jersey Together, the leaders of the Hudson County Correctional Facility, the Hudson County Prosecutor and Public Defender's Office, and the County Department of Housing and Community Reintegration.
NJT plans to congratulate HCCF Commissioner Becky Scott and other relevant officials for their efforts and call for additional commitments to build on the success of the initiative. The network has also reached out to statewide decision-makers, as well as leaders from Essex and Morris Counties, to implement the same program.
New Jersey Together has helped leaders from its member organizations win over $1 billion in chromium clean-up and an additional $1 billion in investments in housing, schools, neighborhoods, and more in communities. The network is affiliated with the Industrial Areas Foundation, the nation's oldest and largest community organizing network.