New Fitness Station in Braddock Park
A new fitness station has been installed in Braddock Park, providing gym-quality equipment and workout options to area residents –…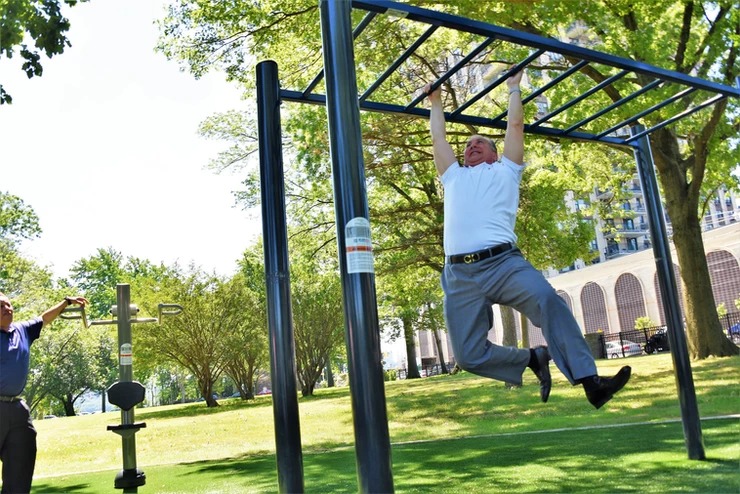 A new fitness station has been installed in Braddock Park, providing gym-quality equipment and workout options to area residents – without the gym fees. The new station, located next to the tennis courts at the southern end of the park, near 79th Street and Boulevard East, includes workout equipment for a wide variety of exercises, including a balance walk, overhead ladder, parallel bars, cardio walker, and benches for push-ups, sit-ups, and leg presses.
The project was completed as a public-private partnership, with planning and direction from the North Bergen Health Department, Hackensack Meridian Health Palisades Medical Center, Rotary District 7490, and the Hudson County Department of Parks and Community Services.

As the park has continued to improve and add features over the past few years, it seemed a perfect location for the Health Department to encourage residents to get out, exercise, and improve their health and fitness. The station was completed thanks to a $70,000 contribution from Hackensack University Health Palisades Medical Center and Rotary Club District 7490, and was installed by the Hudson County Parks Department.

The equipment will be available for free whenever the park is open. It was designed to need minimal maintenance and last for decades. A ribbon cutting was held at the location recently to celebrate the grand opening – even as residents were already exercising hard on the equipment in the background.

Participating in the ribbon cutting were Hudson County Executive Thomas DeGise, North Bergen Mayor Nicholas Sacco and Commissioner Hugo Cabrera, Freeholder Anthony Vainieri, Health Officer Janet Castro, Robert Ceragno and Philip Wells of Rotary District 7490, along with numerous representatives of Hackensack Meridian Health Palisades Medical Center and their foundation: President and Chief Hospital Executive Anthony J. Passannante Jr., Vice President/Executive Director Joseph Burt, Vice President of Business Development Eurice E. Rojas, and Director of External Affairs Nikki Mederos.