Mission 50 Hosts "Paint, Puff n' Sip" Event in Hoboken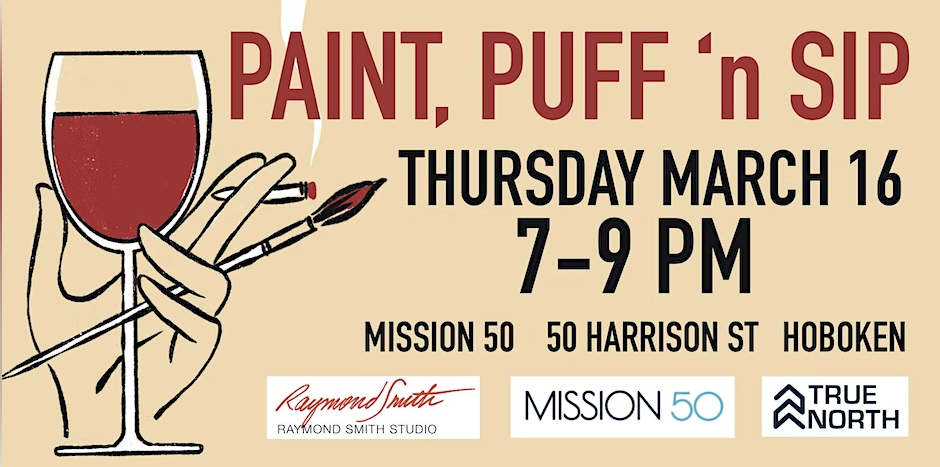 Mission 50, a New Jersey coworking space, has partnered with Main Street Pops to host "Paint, Puff n' Sip," a BYOB cannabis event, on Thursday, March 16, 2023, from 7 p.m. to 9 p.m. The event, part of the monthly "Mission: Community" series, will feature local artist and instructor Raymond Smith, who will teach attendees how to paint like an expert.
The event will take place in The Parlor on the fourth floor of the Mission 50 boutique office building at 50 Harrison Street in Hoboken. Guests can enjoy post-painting munchies, and True North Hemp Products, a tenant of Mission 50, will be on site to answer questions about cannabis products. On-site parking is free, and all attendees will be eligible to enter a drawing for five free days of coworking at Mission 50.
Tickets are priced at $30, and space is limited. Attendees must be 21-years-old or older and are encouraged to register in advance. The event invites guests to bring their own "buds and bottles," creating a cannabis-friendly atmosphere for an artistic and social evening.
"In line with our mission to foster a community-centric environment, we are eager to offer our members and our neighbors a chance to relax, connect and indulge their inner artist while enjoying a cannabis-friendly atmosphere," said Robyn Smith, Vice President of JDA Group LLC, which owns and manages Mission 50.
Mission 50's "Paint, Puff n' Sip" event is an opportunity for community members to connect, create, and unwind in a relaxed and creative environment.