Hudson County Artist to Perform at Sichtfeld Openair Festival in Switzerland
Teewhy G performing at Sichfeld Openair Fesitval in Gipf-Oberfrick Switerzerland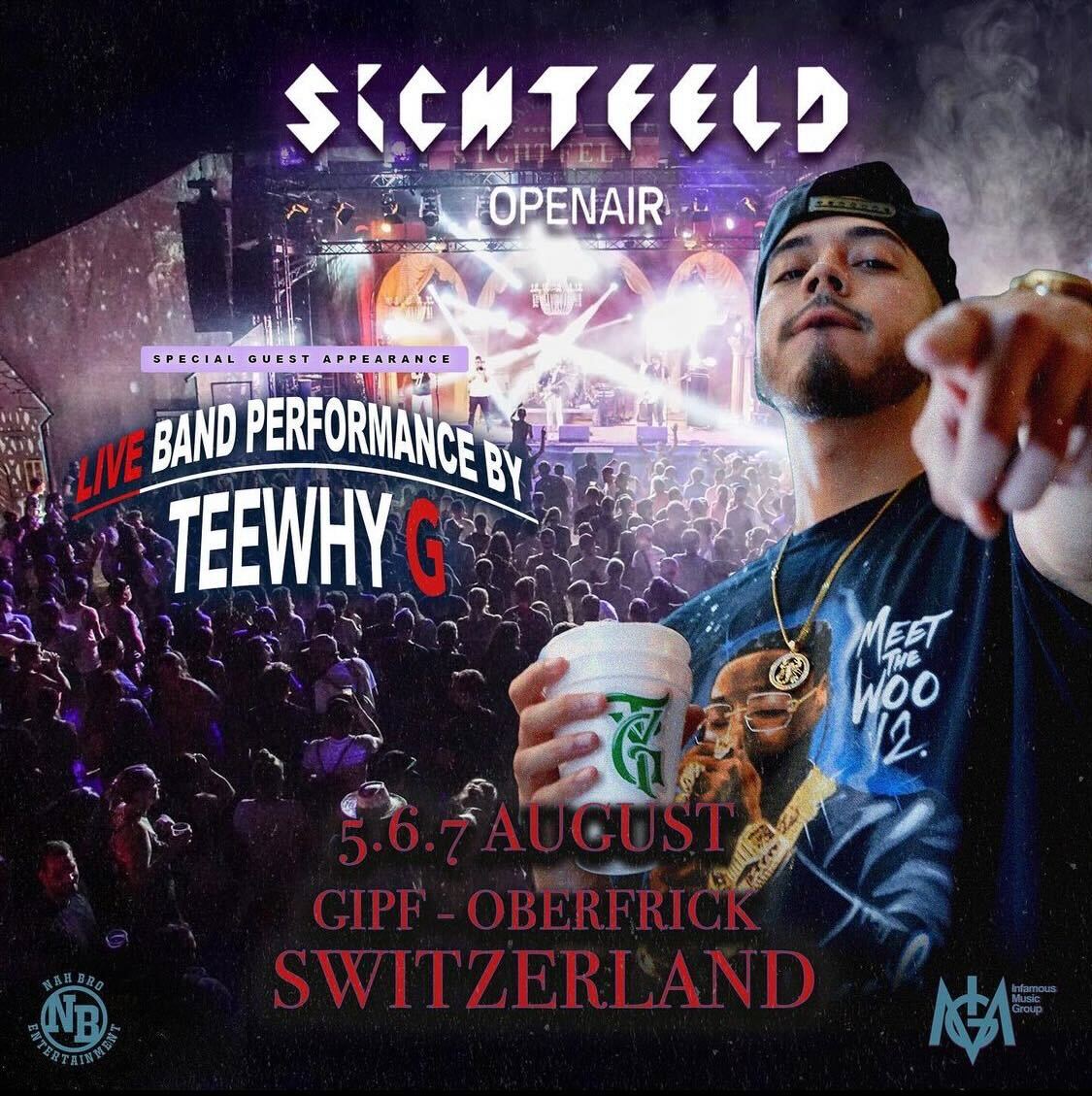 Growing up he never stayed in one place: from Union City, West New York, North Bergen, Jersey City, and Weehawken, Teewhy G's life has been surrounded by different flavors of music all his life. As many of us know, music is everywhere in this area. Our family blasts it out loud at barbecues or asados, you hear it blaring from car speakers when you're walking on the streets; music is tightly intertwined with Hudson County culture, there's no escaping it!
"It's very diverse here and that's how I inherited my love for music and creating." Teewhy G comments on how Hudson County culture shaped his career.
Beginning his musical journey after being inspired by his older brother, he began writing and developing his skills in elementary school.
Teewhy G has come a long way since then, in early 2021 he launched his own independent record label Infamous Music Group and released his debut EP No Diamonds No Pressure last August.  Most recently, he made an appearance on Shade45, a hip hop music station owned by American rapper Eminem. Teewhy G's career is about to make a major leap this August performing at the Sichtfeld Openair Festival in Switzerland. 
A staple in the country, the festival is making its comeback after two years due to 2020's Covid outbreak. Performing to several thousands of people sounds intimidating, which Teewhy G himself acknowledges, but is ecstatic about what the festival will bring.
"I would be lying if I said I wasn't nervous but I'm always down to do new things… it's more exciting than fearful for me." He admits.
Teewhy G's team will be the only artists from the United States performing at the festival and for that he feels honored. Having a headline slot, the festival makes it his biggest crowd so far and he hopes this will give him the opportunity to earn a fanbase abroad and continue to grow his brand in Europe.
Currently working on his next project No Pressure, No Diamonds 2, Teewhy G is bringing a well-balanced, solid body of work that you can play from beginning to end. The album will be more personal which he hopes will help build a stronger connection between him and his fanbase. You can expect the release the first week of August, so keep your eyes open for it.
Teewhy G leaves us with advice for Hudson County creatives out there: GO ALL IN. Do not underestimate the value of the network you have internally. Collectively we are better, show love, and learn as much as possible. If you don't quit, you can't fail!