Photo Released of North Bergen Man Arrested for Possessing Child Pornography on Computer
HudsonTV released the photo of Tejas Patel (36) of North Bergen, N.J..who was arrested for third degree endangering the welfare of a…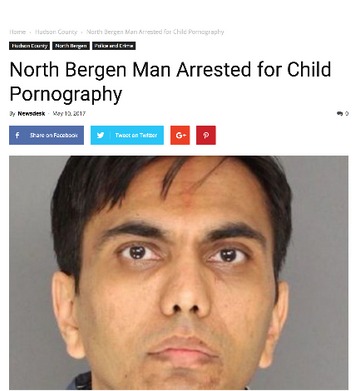 HudsonTV released the photo of Tejas Patel (36) of North Bergen, N.J..who was arrested for third degree endangering the welfare of a child. Patel surrendered himself to Fairfield authorities on May 2, 2017 after an approximate yearlong investigation in which the files of his work computer was examined by law enforcement authorities.
In April 2016, company representatives from Command Nutritionals in Fairfield, which was Patel's employer at the time, inadvertently discovered suspicious icons on Patel's computer. They conducted a cursory investigation and then immediately notified the Essex County Prosecutor's Office and the Fairfield police. The computer was seized and eventually a search warrant was obtained to allow its files to be analyzed by technicians from the New Jersey State Police Regional Computer Forensic Laboratory.
As a result of this analysis, it is alleged that a variety of images involving minors engaged in pornographic activity were discovered and linked to Patel. A warrant was then issued for his arrest and it was served upon him when he voluntarily came to police headquarters. Patel was then transported to the Essex County Correctional Facility in Newark, N.J. Detective Jeffrey Didyk investigated the case.
(It should be noted that the charge against Patel is merely an allegation and that he is presumed innocent until he either pleads guilty or is found guilty in a court of law)
Originaly posted on Fairfieldpolicenj.org