Mayor Sacco Welcomes Gubernatorial candidate Phil Murphy to packed North Bergen Town Hall Meeting
NORTH BERGEN — Nearly 400 residents packed into the Schuetzen Park Casino Room on January 10th to meet New Jersey's potential next…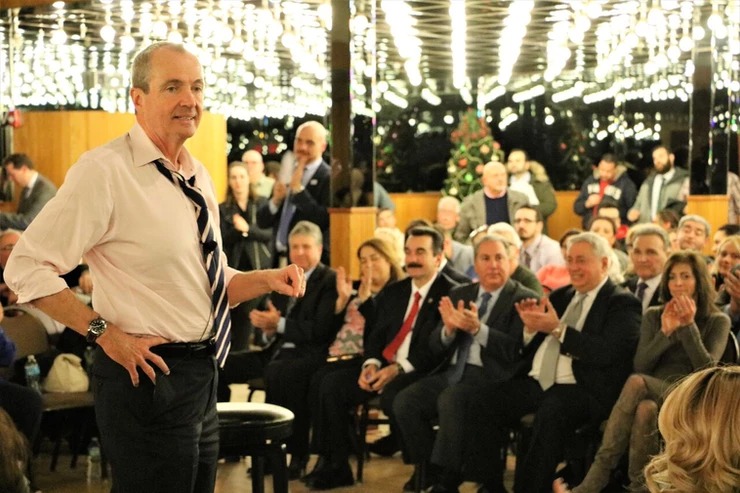 NORTH BERGEN — Nearly 400 residents packed into the Schuetzen Park Casino Room on January 10th to meet New Jersey's potential next governor as Mayor Nick Sacco welcomed Phil Murphy to North Bergen for a Town Hall Meeting. Murphy, who has been endorsed by Mayor Sacco and the Hudson County Democratic Organization, answered questions from residents and outlined his plans to grow the economy, create jobs, increase school funding and much more.
"After eight disastrous years of Chris Christie I could not be more excited to support someone like Phil Murphy," said Mayor Sacco. "Phil Murphy understands the challenges that North Bergen has faced and knows what communities like ours need to thrive. I am wholeheartedly supporting him and believe that he will be our next governor."
Attendees at the Town Hall Meeting included Assembly Speaker Vincent Prieto, Assemblywoman Angelica Jimenez, North Bergen Commissioners Hugo Cabrera, Allen Pascual, Frank Gargiulo and Julio Marenco, Freeholder Anthony Vainieri, Sheriff Frank Schillari, West New York Mayor Felix Roque, Weehawken Mayor Richard Turner, Bayonne Mayor Jimmy Davis and many other local elected and municipal officials.
"Mayor Sacco and his administration have accomplished a lot in North Bergen with limited state resources for public education, economic development, job creation, public safety and the like, but they could do much more with a governor who recognizes the importance of truly investing in our communities," said Murphy. "North Bergen, and towns like it, are key to unlocking New Jersey's potential and I am excited to be a partner to this excellent community."
Murphy has held dozens of Town Hall events throughout the state since announcing his candidacy last spring, attracting large crowds and thoughtful conversation about the issues facing the state. He has been endorsed by Democratic leaders throughout the state and is running for the party's nomination in the upcoming June primary election.