NBPD Partners With Hudson County Prosecutor on New Fatal Collision Unit
The Hudson County Prosecutor's Office recently established a new Regional Fatal Collision Unit, in partnership with various local…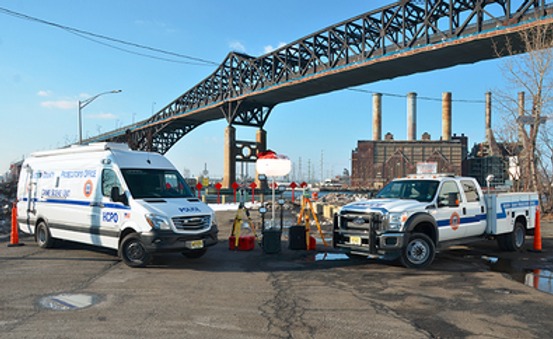 The Hudson County Prosecutor's Office recently established a new Regional Fatal Collision Unit, in partnership with various local agencies including the North Bergen Police Department.
The new unit will include crime scene personnel from the prosecutor's office equipped with the latest available collision technology software, along with a specially equipped vehicle, an aerial drone, and a newly acquired laser scanning/measuring equipment.
A dedicated group of assistant prosecutors will be working with the unit and will be on call at all times.
In 2017 there were 26 deaths caused by vehicle collisions in Hudson County. Of those, 18 (70%) were pedestrians or pedal cyclists. Due to the high rate of fatal collisions in the region, Suarez, along with police chiefs throughout the county, determined that citizens required highly trained detectives with the most up-to-date equipment at their disposal.
Just one day after the Jan. 25 press conference announcing the implementation of the new unit, it was involved in the investigation and arrest of a suspected driver in a fatal hit-and-run in Jersey City.