The High Tech $115K settlement that went unreported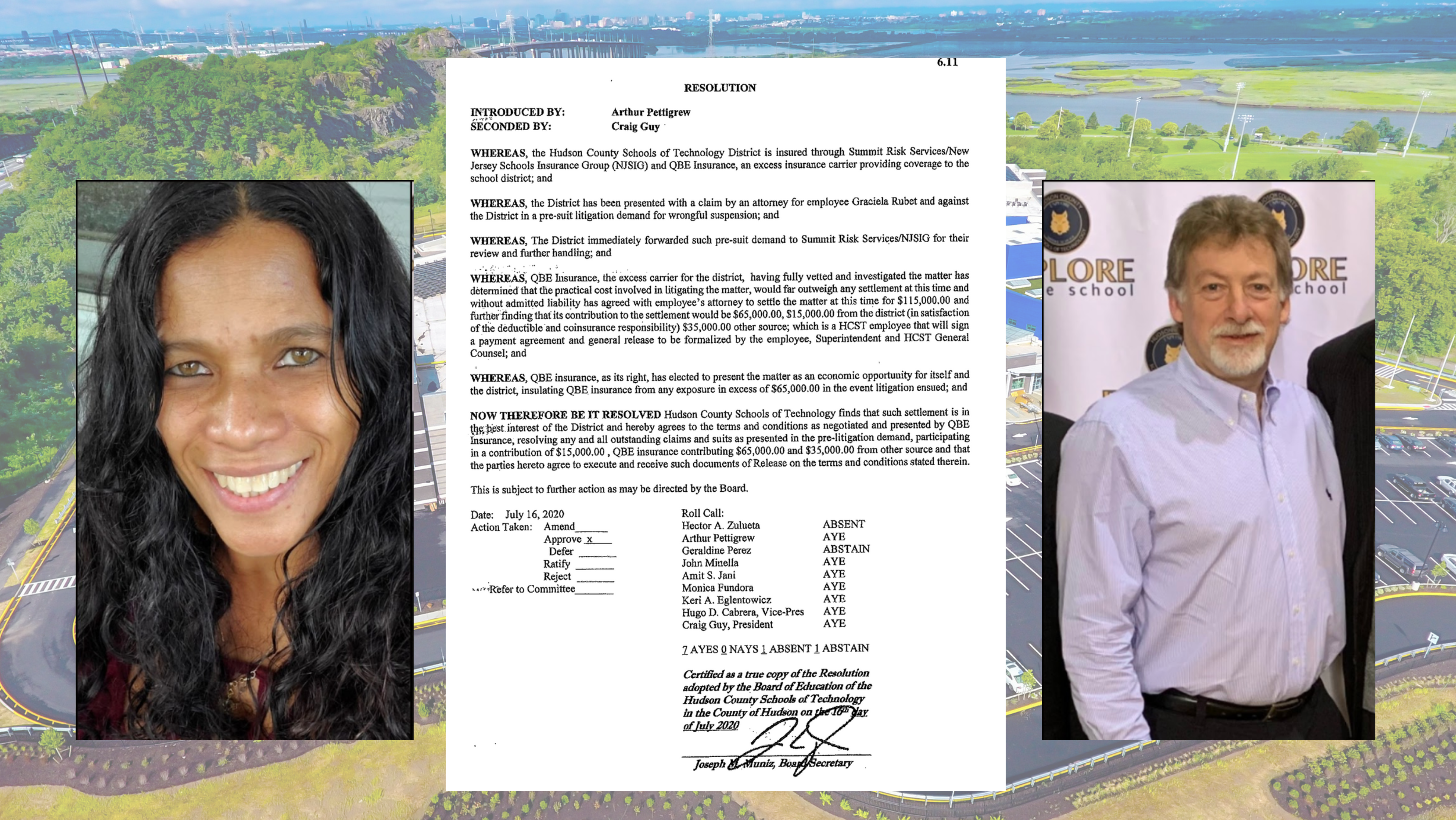 Graciela Rubet, a secretary working at the Hudson County Schools of Technology (HCST) since April 2000, was criminally charged and suspended with pay in August 2018 after being accused of burglarizing a student locker at High Tech High School's prior location in North Bergen.
The arrest initially went unreported, but eventually a story was published by Hudson County View in May 2019 and the article's caption on Facebook stated "Rubet was accused of stealing merchandise for a charity golf event last June and remains on suspension with no court date in sight."
Despite the bad press, there would be no conviction. In fact, documents obtained by HudPost reveal that the criminal case against Rubet was dismissed in February 2020, she was reinstated to her job on March 1, 2020, and the secretary eventually received a $115,000 pre-notice settlement for "wrongful suspension."
What's notable about Rubet's settlement was the lack of monetary damages (she was suspended with pay and provided a criminal defense attorney by her union). Instead, the $115,000 payment was for "alleged pain and suffering."
So why were Rubet's criminal charges dismissed and why did she receive a $115,000 settlement? Public details are scarce because 1) there was never a formal claim submitted with the district and 2) a Hudson County judge kept a separate settlement agreement related to Rubet's case hidden from the public.
Be that as it may, according to sources with knowledge of the situation, Rubet supposedly objected to alleged sexual harassment by HCST Business Administrator Nicholas Fargo before he played a key role in the school's investigation of her. That investigation resulted in criminal charges, but the case was purportedly dismissed after text messages of the alleged harassment were presented to the municipal prosecutor.
A spokesperson for HCST declined to comment on those allegations. Continue reading for an in-depth breakdown of Rubet's case and all available information.
The Hudson County View Report
On May 7, 2019, Hudson County View published an article titled "Almost a year later, Hudson County school clerk still on suspension for alleged theft incident."
That story is no longer available on Hudson County View's website, but two social media posts remain and the article was archived. Key details from that report include:
Rubet was suspended for the entire 2018-2019 scholastic year after being accused of theft on June 22nd, 2018.
The first police report regarding the alleged theft was made on August 9, 2018, by then-Acting Superintendent Amy Lin-Rodriguez. A second police report was filed on August 16, 2018. Both reports were filed with the North Bergen Police Department (NBPD).
Both police reports cite surveillance footage as evidence that she had stolen the merchandise, valued at somewhere between $200 and $300.
The items, which included golf shirts, golf balls, pens, corkscrews, and other souvenirs, were meant to be auctioned off at an annual charity golf event.
HCST spokeswoman Caitlin Mota, an employee of Vision Media Marketing, Inc., said "the allegations against Ms. Rubet are disturbing and the investigation was quickly turned over to law enforcement for proper action to be taken. Ms. Rubet was immediately suspended from her position and remains so today pending the outcome of the criminal investigation."
Rubet's attorney, Timothy Smith, of the Fairfield-based law firm Caruso Smith Picini, said "Ms. Rubet is unequivocally innocent. We firmly plead that the charges were the result of a misunderstanding, we're hopeful the authorities come to that understanding through the continuation of this process – which includes the open exchange of relevant evidence – and we look forward to resolving this in court."
Unlike the majority of articles published by Hudson County View reporting criminal charges, there was no press release announcing Rubet's arrest.
On May 6, 2019, John Heinis, the publisher of Hudson County View, filed an Open Public Records Act (OPRA) request with North Bergen regarding Rubet's case and received four police reports. Later that day, in an email to Phil Swibinski of Vision Media, Heinis would only say he "learned" about Rubet's suspension when seeking comment on her employment status.
To put things in perspective, Heinis only filed two other OPRA requests with the township in over four years (1/1/2018 to 2/7/2022). Those requests were for 1) a year's worth of newspaper advertising invoices submitted by The Hudson Reporter (2018-2019) and 2) the NBPD's internal affairs summary report for 2020.
It's not clear what Heinis "learned" about Rubet's suspension, but we do know he 1) didn't report whether it was paid or unpaid (it was a paid suspension) and 2) never mentioned that the second police report was B.A. Nicholas Fargo's statement to NBPD.
North Bergen Police Reports and Court Records
The two police reports which led to Rubet's arrest were based on statements provided to NBPD P.O. Eric Weyand by Fargo and Lin-Rodriguez. What Hudson County View also failed to mention was that both reports identify another school employee, Edward Sellmeyer, as the person who placed the allegedly stolen gift bag in a locker.
According to the first report from August 9, 2018, Sellmeyer informed the school administration about the missing gift bag, "at which point [HCST] began their own investigation." Lin-Rodriguez told police that Sellmeyer claimed he left the bag in an unsecured locker on June 22, 2018, and discovered it was missing the following week after returning to retrieve the items.
According to the second report from August 16, 2018, Fargo claimed he was tasked with reviewing the surveillance footage. During that process he positively identified Rubet as the suspect because he's "seen her over one hundred times and interacted with her."
Weyand did not specify the date Sellmeyer realized the bag was missing or the exact date Rubet allegedly committed the theft. Additionally, the officer claimed he attempted to contact Sellmeyer several times, but was unsuccessful, per details from the first report.
Both Fargo and Lin-Rodriguez indicated that they wanted to pursue a criminal complaint. Hudson County Assistant Prosecutor Erin Campbell advised Weyand that, based on the evidence collected, he had enough probable cause to charge Rubet with Theft.
Two additional reports were generated regarding Rubet's surrender and criminal processing, but neither provided meaningful information besides the secretary's refusal to provide a voluntary statement.
In response to a request for audio recordings of court proceedings, filed on June 22, 2021, the North Bergen Municipal Court stated that they had no record of the complaint against Rubet. The Hudson County Prosecutor's Office (HCPO) did not respond to an email from HudPost asking if they participated in Rubet's case beyond Campbell's advice to Weyand.
HCST Board of Education Resolutions
Two separate resolutions were passed by the HCST Board of Education (BOE) in 2020 related to Rubet.
On February 27, 2020, the board approved a resolution that reinstated Rubet to the position of Clerk/Secretary, effective March 1, 2020, and assigned her to the Explore Middle School located in Jersey City.
The resolution stated that the North Bergen Municipal Court notified HCST that the criminal charges against Rubet had been dismissed upon recommendation of the municipal prosecutor, but doesn't give an exact date of when that occurred. The agenda item passed 6-0 with three board members absent (Craig Guy, Amit Jani, and John Minella).
On July 16, 2020, the board approved Rubet's $115,000 compensation for "alleged pain and suffering." The resolution stated that the settlement arised from "a pre-suit litigation demand for wrongful suspension." According to the agreement attached to the resolution, Rubet claimed "she suffered anguish and concern" due to her paid suspension – which HCST "denies causing."
QBE Insurance, an excess insurance carrier for HCST, "fully vetted and investigated the matter" and determined the practical cost of litigating the complaint "would far outweigh any settlement," per the resolution.
The resolution also states that QBE would contribute $65,000 towards the settlement, $15,000 would come from the HCST BOE (in satisfaction of the deductible and coinsurance responsibility), and the final $35,000 would be paid by an HCST employee pursuant to "a payment agreement and general release to be formalized by the employee, Superintendent, and HCST General Counsel."
Additionally, HCST dismissed all administrative disciplinary actions against Rubet, agreed that the criminal charges would not be considered "for any future raise and/or promotion," and reassigned her to Explore Middle School for "so long as that program exists." The agenda item authorizing the settlement passed 7-0 with one board member abstaining (Geraldine Perez) and another member absent (Hector Zulueta).
OPRA complaint against HCST BOE
On February 21, 2021, John Dineen, board attorney for the HCST BOE, denied an OPRA request by this reporter seeking a copy of the "payment agreement and general release."
The denial was based on a 2020 appellate court ruling in the case Libertarians for Transparent Government v. Cumberland County. That decision blocked the release of a settlement agreement involving a former correctional officer allowing them to retire in good standing after they were accused of engaging in "non-consensual sex acts" with a female inmate and admitted to having "inappropriate relationships with two inmates."
On April 2, 2021, a complaint challenging Dineen's decision was filed in Hudson County Superior Court by attorney Walter Luers of the firm Cohn Lifland Pearlman Herrmann & Knopf. For civil litigation, the HCST BOE hired the firm Scarinci Hollenbeck and is represented by attorneys Jorge de Armas and Robert Levy.
Attorneys for the HCST BOE argued that the settlement agreement was a "personnel record" exempt from disclosure under OPRA and that "the record sought involves internal employee discipline or investigations into employee misconduct, and/or the settlement thereof."
Luers argued that the record sought was "part of a global resolution of a pre-suit claim for damages" and that the agreement "did not resolve any internal disciplinary charges; it resolved threatened litigation, and paid a settlement."
On July 9, 2021, Superior Court Judge Joseph A. Turula sided with the HCST BOE; however, that decision was appealed and the complaint remains ongoing. Furthermore, the New Jersey Supreme Court recently reversed the appellate ruling in Libertarians v. Cumberland County, but it's unclear whether that decision will impact the case.
Joseph Muniz's certification and Nicholas Fargo's banked days
Whether or not the settlement agreement is ever released, the litigation did produce a certified statement from HCST Board Secretary Joseph Muniz with additional information about Rubet's case. Some of the key details include:
In February 2020, the HCST received information from a third party (presumably the North Bergen municipal prosecutor) that, if true, would subject the employee who signed the agreement to discipline.
An internal investigation was commenced which "preliminarily concluded that there was evidence that could support a conclusion that the Employee engaged in conduct that violated District policies… the Employee was directed not to contact [Rubet]."
The district was presented with an "informal claim" by an attorney for Rubet, no tort claim notice was ever filed, and no claim was made against the unidentified employee; "Nevertheless, there was a commonality of fact as between at least a portion of the allegations underlying Claimant's pre-suit claim and the conduct for which the Employee was being investigated," according to Muniz.
As part of the disciplinary process, and given the "commonality of fact," HCST was determined to recover the value of $35,000 for which the mystery employee was being independently investigated.
HCST and the unnamed employee settled the monetary component of the internal discipline by agreeing to forfeit time from "the Employee's 'time bank' valued at $35,000.00." No funds were actually exchanged in satisfaction of the $35,000.
Subsequent to the monetary agreement, "the disciplinary matter was completely settled, with the Employee incurring further discipline as between the Employee and the HCST. "
Based on Muniz's certification, this reporter filed an OPRA request for yearly reports from 2016 to 2021 documenting banked time – accumulated sick & vacation days that can be cashed out at retirement – for all HCST employees.
Responsive records to that request show Business Administrator Nicholas Fargo's total banked time decreased 29.5 days between the 2019-20 and 2020-21 school years; 21 days deemed "other" were taken during the 2020-21 school year (vs. 4 taken the previous three years, all of which were in 2019-20).
Questions about Rubet's case go unanswered (plus other notables)
In response to an email from HudPost seeking comment on this story, Swibinski stated that HCST "does not comment on personnel matters and we will not specifically address any of these allegations. Unsubstantiated information that is not grounded in fact should never be published and doing so would open the publication to potential legal action."
Furthermore, despite the North Bergen Municipal Clerk producing a copy of Rubet's police report via OPRA, Swibinski provided a statement from Police Chief Peter Fasilis stating that NBPD "has no records related to Graciela Rubet and there has been no internal affairs investigation opened into this matter."
HudPost was unable to obtain a comment from the North Bergen Municipal Prosecutor for this story. The HCPO declined to comment on whether they were ever notified of the outcome of Rubet's case. Notably, Caitlin Mota, who described the allegations against Rubet as "disturbing" in the Hudson County View article, now serves as the HCPO's spokesperson.
Notably, some members of the HCST BOE who voted for Rubet's settlement include a former Vision Media account executive (Amit Jani), Hudson County Prosecutor Esther Suarez's sister-in-law (Keri A. Eglentowicz), and Jersey City Mayor Steven Fulop's chief of staff (John Minella). 
Additionally, Hudson County Executive Tom Degise's chief of staff, Craig Guy, is the HCST BOE president. Hudson County View has reported that Guy is the frontrunner to succeed Degise, but Heinis failed to mention that Guy was arraigned on charges by the HCPO in the 80's for allegedly conspiring to distribute cocaine as a Jersey City narcotics sergeant, according to a New York Times report.
Daniel Bevere, an attorney representing Guy, claimed that Guy "was never involved with, or accused of, trafficking in narcotics."
CORRECTION/UPDATE: HudPost has updated the reference to Guy's arrest following a complaint made by Bevere on Guy's behalf. The original article incorrectly stated that Guy was indicted by the U.S. Attorney's Office. The New York Times article stated he was arraigned on charges by the HCPO. Additionally, this article has been updated to include Bevere's statement that Guy "was never involved with, or accused of, trafficking in narcotics."