North Bergen Remembers CPL Michael J. Brellenthin
CPL Michael J. Brellenthin Second Indochina War, Vietnam Michael J. Brellenthin was born on December 21, 1947. His home of record is…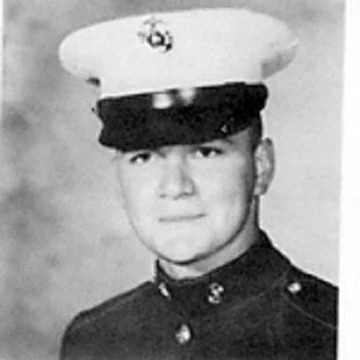 CPL Michael J. Brellenthin
Second Indochina War, Vietnam
Michael J. Brellenthin was born on December 21, 1947. His home of record is North Bergen, NJ. His parents, Clara and Ed, had five children, three daughters and two sons. Michael graduated from North Bergen High School in 1965. Some of his hobbies included fishing, hunting and baseball. He was a talented artist and planned on becoming an architect. He entered the US Marine Corps in May 1967, attaining the rank of Corporal (CPL) and was sent to Vietnam.
On February 25, 1968, after his patrol was ambushed, Brellenthin was reported missing in action while following a patrol near Khe Sahn. he left behind a wife, Ruth, whom he had married two weeks prior to leaving for Vietnam.
Six months later, Michael was one of nine men reclassified as "killed in action" but only four caskets were sent home for interment. Five remain unaccounted for.
There is some controversy regarding his status. The government declared him killed in action, but his family and others believe he is still missing in action.
Brellenthin was buried on September 10, 1968 in the Jefferson Barracks Memorial Cemetery in St. Louis, MO. Besides his wife Ruth, he left behind his parents and four siblings, Edward, Ellen, Diane and Barbara Milazzo.
Five years later, one of the "buried" men was released by the Vietnamese as a prisoner of war. In August 1978, ten years after incident, the Department of Navy wrote, "there was a chance that Michael did survive." From then until now, the government has added nothing.